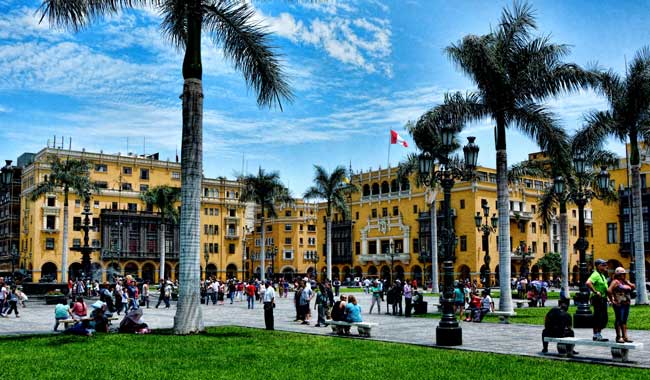 Peru
Peru is now on the list of top destinations for expats. Mention Peru and most people think of the wonder of the world, Machu Picchu, and…llamas. But during a recent visit, traveling the country, experiencing life there, and speaking with expats who call it home, InternationalLiving.com editor Jason Holland said they may have discovered one of the world's best kept secrets.
"Food is cheap—and very tasty. Rents are affordable even for those on super-low budgets—$200 to $400 gets you a nice place in a great neighborhood. The climate is comfortable…the people friendly…there are modern services…and the vibrant mix of music, festivals, indigenous culture, and colonial history is evident everywhere you turn. It should be an option for anyone considering a retirement in Latin America."
Arequipa and Cusco are two of the most popular towns for expats to live.
"I fall in love with the city every time I walk through it," says Californian Bill Connors, who now lives in Arequipa. "It is a very romantic city. At predawn and at night the sillar shines—it's very beautiful. Outside of the tourist area, you have very cheap restaurants. I spend about $30 a week on food, mostly going to the market," says Bill.
The latest International Living report on five top expat havens to move overseas contains more financial and logistical information on countries most popular with U.S. expats, as well as more interviews with expats already living abroad
Mexico
Mexico is one of the world's top destinations for those dreaming of a relaxed and romantic new life abroad. America's closest southern neighbor consistently makes International Living's list of the best countries to live in.
Many expats choose to live in Mexico's Colonial Highlands. Three popular towns in the region are San Miguel de Allende, Querétaro, and Guanajuato. Each has a colonial centro histórico—all UNESCO World Heritage sites—where grand colonial homes have been converted to hip restaurants, chic boutiques, hotels…or sometimes just tiny mom-and-pop corner stores or simple eateries where you can get a meal for a couple of dollars. And, of course, many of the colonials have also been renovated to become homes.
Money-wise, it's a great time to be anywhere in Mexico—the exchange rate today is 20.07 pesos to $1. Combine that with already low costs for real estate, food, restaurants, entertainment, and transportation, and you have the spending power to live very well on around $1,800 a month for a retired couple.
"In Austin, we were paying $700 a month for heat and air conditioning. We were paying property taxes of $12,000 a year and now live comfortably with taxes of $200 a year," says Chris McCaskill. "Here in San Miguel, economics and lifestyle go hand in hand. We spend money on quality of life things, not air conditioning or taxes. We can take our money from Social Security and our quality of life is pretty darn good."
Belize
As a Caribbean destination, Belize is quite affordable and the country offers some big advantages—economic stability, a strong retiree program, and a wonderful climate, if you like the tropics. Some expats move to Belize because this Central American country has a beautiful coastline, where the sunbathing, swimming, snorkeling and diving, fishing, and sailing are among the best in the world.
Moreover, Belize is an English-speaking country. For expats who are ready to move abroad but don't want the hassle of having to learn a new language, Belize could be the ideal place.
Ambergris Caye is a popular offshore caye that's located 35 to 40 miles southeast of Corozal. In 2013 and 2014 it was voted the world's best island by Trip Advisor members. The nearby World Heritage Mesoamerican barrier reef and stunning azure Caribbean waters enchant visitors and expats alike.
"Belize first attracted me because of the spectacular Caribbean seascapes and the vibrant offshore barrier reef teaming with colorful, diverse sea life…the laidback lifestyle…affordable cost of living…and the friendly Belizeans," says Ann Kuffner.
"But after moving here another advantage became apparent. Maintaining a healthy, happy lifestyle in Belize is easy. As a matter of fact, many expats who move to Belize remark that they have lost weight, are in better shape, and feel better than they have in years. Most expats here have embraced this healthy, active lifestyle that Belize offers. Of course, the bonus is that they have little stress in their lives here compared to living back in the States."
Source: International Living