Echo Valley and the Hanging Coffins
Walking farther down, we reached the hanging coffins where our guide told us that five years ago was the latest year they buried someone via hanging coffin. I won't tell you how they do it, but it's really something worth knowing, if you're into unique traditions.
Bokong Falls
Our goal was to get to the Bokong Falls, also known as the Small Falls because Sagada has a bigger falls, and yes, it's called the Big Falls. To get there we passed by a rocky, shallow underground river, a patch of purple-leafed cabbage and steep pathways.
When we reached the falls, we were unable to swim as it was too deep for our exhausted bodies, so we rested for a while, and we contemplated the distance we'd walked.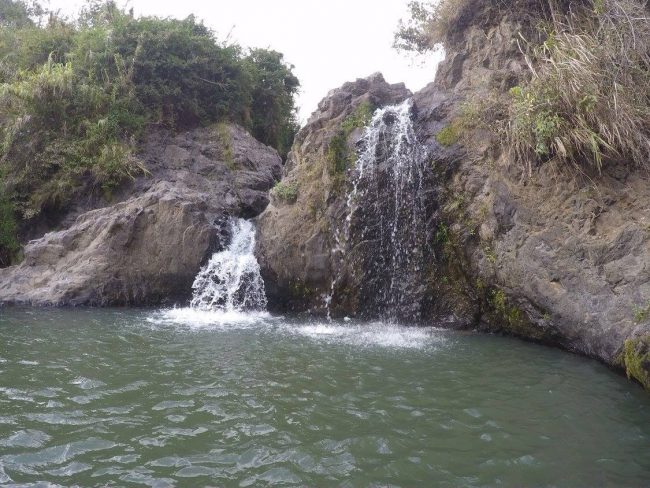 It was already past five in the afternoon when we decided to head for some food. We were supposed to reserve dinner at Log Cabin, the place where the food is good and you need reservations to get in, but everyone was too hungry to wait so we decided we were content with the food served downtown.
Lake Danum is an idyllic place for picnics and long conversations. The viewpoint for the sunset, however, was located beyond the lake. The sunset was rarely seen but we were lucky enough to witness one that could rival the world's best.
Visiting Mt. Kiltepan in Sagada 
Waking up at 3 in the morning is worth it if the reason is to see something unbelievably beautiful. Mt. Kiltepan is Sagada's most famous destination because from this place, you can see magic unfold if you're lucky enough to get the timing right.
Unfortunately for us, it was too cloudy to see the famous Kiltepan sunrise. Two of our newly-found acquaintances though returned the following day and they were treated to a spectacular one.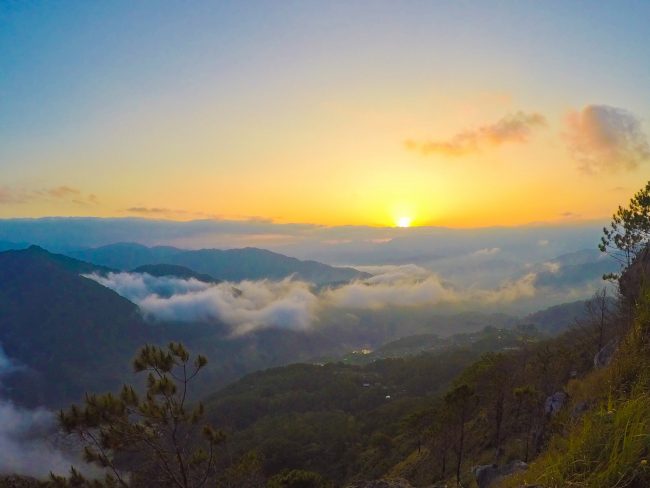 Blueberry Yogurt and Perpetual Mornings
There's something that might just beat Sagada's cave, sunset, and even its supposed stunning sunrise, and that's Misty Lodge's blueberry yogurt. They have three flavors: chocolate, blueberry and strawberry. You'll definitely regret it if you do not taste one.
After we checked out at 9:30 a.m., we walked to the town proper where we visited the St. Mary's Episcopal Church, where we ate at The Lemon Pie House and bought souvenirs.
Since we were headed back to the city, and there are few buses that traverse the dangerous highway, we decided to leave Sagada at 11 a.m. The last bus out of the town was scheduled at 1 p.m. We understood why that was the case when the 130-km stretch of the Halsema Highway felt like a roller coaster ride.
Despite being treated to stunning sights of rice terraces, and marvelous views, I can't help but focus on the mind-boggling ravines and abysses. There was a point in the trip when we couldn't even see the road since the fog was so thick. It was an unforgettable ride filled with turns unseen and perpetual mornings.
Unexpected discoveries are often found when you get off the well-worn path and try something new. This quiet mountain town in the Philippines is waiting.