The waiter, accustomed to foreign women invading this space reserved for males only, took my order for a nuss-nuss, but seemed comforted by the fact that, at least, a man accompanied me.  I wondered if I would have been served if I had come alone. Most of the men sitting nearby smoked long thin cigarettes and seemed fascinated by my husband's Havana cigar. One man commented that he enjoyed the aroma that drifted from our table. I felt relieved that 'something' had diverted their attention away from the shock that a female had entered their territory.
A Japanese woman staying at our riad, a 300-year-old home built for nobles, turned B&B for foreigners, had recounted a story at breakfast that reflected the depth of male dominance. Out of cigarettes, she went to a nearby store to purchase a pack of Marlboros. Three different shopkeepers refused her request. Women cannot buy cigarettes, as smoking remains a diversion reserved for men. She returned to the hotel, grabbed the bellman and took him to the store. He bought the pack with ease, as she stood in the shadows outside.
Stiff drinks cannot be sold at cafés. Moroccan law calls for a ban on alcohol sales to Muslims and Islamic law forbids the consumption of any intoxicating substances. Only restaurants and hotels catering to a foreign clientele are allowed to serve liquor, wine and beer. Despite this fact, The Kingdom of Morocco earned one billion dirham from the liquor sales tax in 2014 and the problem of domestic violence at the hands of drunken men has reached epidemic proportions. If abuse cases ever make it to court, charges are generally dismissed because the alcohol is deemed the culprit, relieving the man of personal responsibility. A few extra prayers should solve the problem. Ahh… the hypocrisy of religions everywhere runs rampant here too.
Before heading into the Sahara for several nights of tent camping, our Moroccan guide asked if we wanted to buy some 'spirits' to soften the sting of the brutally cold desert nights. Liquor remains as hidden from the public as the practice of Muslim men drinking it. At a supermarket, we were diverted from its main entrance to an obscure, narrow doorway next to the store. Down three flights of unlit stairs, we emerged into a 2,000-square-foot bright, busy cavern, where foreigners and local men made their alcohol selections from crowded shelves.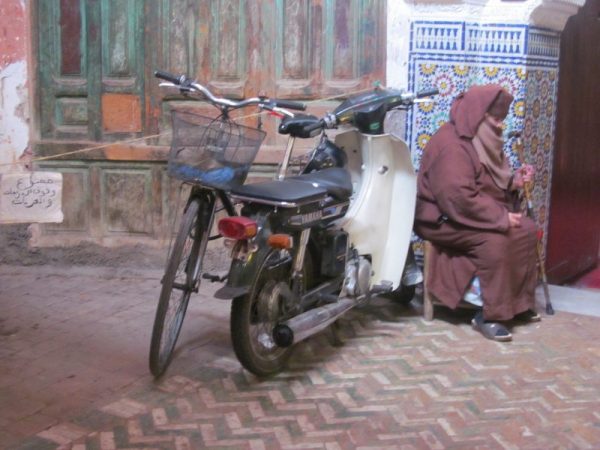 The guide advised us to conceal our purchases, bagged in opaque black bags, upon leaving the underground cache. We noticed that the men's djellaba robes provided a secret compartment to hide their illegal goodies. During Ramadan, the liquor stalls remain caged to prevent any sales, although, in Morocco, as anywhere on this earth, laws can be sidestepped for the right price.
And so, we realized that nuss-nuss means more than café-au-lait. The mixture of black coffee and white milk represents the blending of ancient and modern, examples of extremes, the strict following of Islamic tradition, but ignoring religious law when it suits. One thing it does not mean, yet; that women are welcome to join the Moroccan Men's Club.
Author's Bio: After a life-long profession of treating the mentally ill at a PA psychiatric hospital for 33 years and also serving as its Director of Admissions, Carol retired to Lake Chapala, Mexico in 2006 with her husband, to pursue more positive passions. Her family thought that she, too, had 'gone mad.' She's been teaching English to Mexican adults for ten years, in a program operated by volunteer expatriates and writing for local on-line and print publications. Using her adventures experienced during visits to over 80 countries to capture a niche in travel writing, Carol also dabbles in 'memoir.'  A frequent contributor to Lake Chapala English magazine, "El Ojo del Lago," she's won several literary awards from that publication, including Best Feature in 2010 and Best Fiction in 2014. She also netted a story regarding her psychiatric field work in the published anthology, "Tales from the Couch."  
[mappress mapid="984″]