Finland's Lakeland Region

After flying into Helsinki, several friends and I traveled by train for 2.5 hours to the town of Mikkeli, located between lakes Puula, Kyyvesi and Saimaa. Many Finns dream of owning a summer cottage in this region, and some 10,500 of them do. During the summer, the sun only sets for a couple of hours, leaving long days of sunlight for play and relaxation. In the winter, the water turns to ice, providing ample space for skating, hockey and even cross-country skiing.
Mikkeli itself is a popular destination. Kenkävero is one of the region's most visited attractions. This restored vicarage has impressive gardens and is home to Santa's Summer Hideout, which children delight in visiting.
Tertin Manor is another draw. When we stopped for lunch at this historic family manor, we found a huge buffet spread filled with fresh vegetables from the manor garden, homemade breads served with honey from the grounds, as well as duck, pheasant and partridge from manor hunts.
This focus on fresh, very local products is a theme found over and over at restaurants and hotels in Finland. Whoever thinks Finnish foods are bland has not visited recently. Fresh berries, mushrooms, fish and homemade baked goods are a staple of Finnish cuisine.
Many of these fresh berries find their way into Finnish country wines, liqueurs and spirits created at Ollinmäki Winery, also located in Mikkeli. Birch sap and spruce buds are other key ingredients. The winery offers wine tastings for EUR 22, and has a restaurant on site.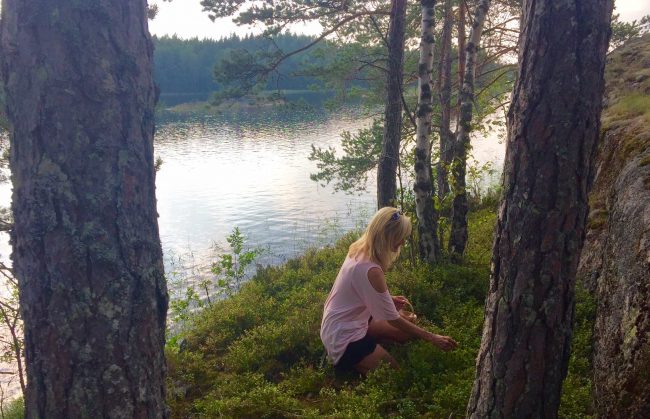 Lake Saimaa

But perhaps the most sought after experience here is simply being on the lake – swimming in it, boating on it, sitting alongside it with a book. After joining others on a boat, we cruised through many of Lake Saimaa's many waterways and inlets. The lake's deep waters are clear, surrounded by forested shoreline and dotted with islands.
It's on one of these islands that our hunt for blueberries ensues. Through the thick trees, I hear others exclaim as they find bright blue berries and wild mushrooms, but I'm not having any luck.
"Here," one of my Finnish friends shows me patiently, pulling up a tiny low-lying bush to display plump berries underneath. The non-assuming plant is a treasure trove, and soon berries line my basket.
"We'll have these for dinner," my friend exclaims. And indeed we do.
That night, at the Anttolanhovi Art & Design Villas, we hold a Finnish BBQ. The main dish is Muikku, a tiny lake fish that is a popular dish in Finland. After adding fresh herbs and spices to the tiny fish, we grill them over an open fire.
The fish are served with fresh berry drinks, local vegetables, hearty salads and homemade breads. I'm not sure if it's the fresh air, the gorgeous lakeside location or the chef's skills, but I love everything on the menu.
Continued on next page