Amos, a park ranger dutifully equipped with a World War II-era rifle, accompanied us on the walk. After all, this is lion country – as well as elephant, cheetah, leopard, wart hog, etc.- country. While we traipsed the countryside, viewing herds of Thompson gazelles, Topi antelope, elephants and others, I asked the two men about their culture and they barraged me with questions about our culture.
The Maasai were intensely curious about such things as monogamy, divorce, Oprah (how on earth do they know about her?!) and WHY we don't like to drink cows' blood, or how we even exist without drinking blood.
I, on the other hand, interrogated them about polygamy and arranged marriage, how they DO like to drink cows' blood, etc. and found myself truly wondering who had it right after all. Every now and then, we'd run into young boys herding cattle with their spears. They were amazingly friendly and brave enough to chat with me, even practicing their English one-to-tens that they had learned in their tiny schools. Politely shaking my hand, they'd let me pet their cows and they'd then pet my hair.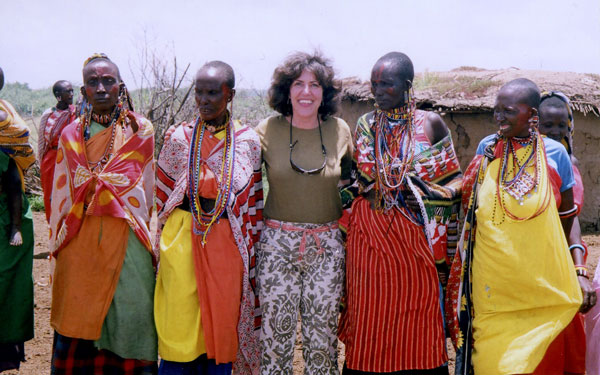 Despite the appalling poverty in Kenya that is all too apparent, I felt safe during the entire trip. Kenyans were quite delighted with my 'uncommon' nationality (Brits and Germans are the main tourism groups there) and embraced me with their genuine warmth and outgoing natures. It was enchanting how even the tiniest Maasai children know to shake hands when meeting someone new, and how everyone introduces themselves on a first name basis – no pretensions.
I loved the Swahili greeting of "Jambo" which everyone uses instead of 'hello,' and the endearing "much welcome." I was surprised when I heard "hakuna matata" and realized that the theme song from The Lion King, which my children had played a million times, really DOES mean 'no worries, no problem.'
Africa Adventure Consultants, a Colorado-based firm specializing in custom safaris and other types of travel in south and east Africa, coordinated our trip. I'm certainly not the only one who finds travel to Africa a bit daunting – so Kent Redding, the president of AAC, uses his expertise and extensive background knowledge gained from living and working for years in that region of Africa to guide others in designing their trips.
The region Redding specializes in is noted for hosting the Great Migration, the inconceivably huge event each June, when millions of wildebeests and zebras migrate across the Serengeti and Mara plains in thunderous herds. The rest of the year, however, there is no shortage of animal sightings across the rolling plains and savannahs. Kent planned our trip along with Heritage Hotels, a Kenya-based small chain offering three levels of properties throughout safari country and the Indian Ocean coastline.
Continued on next page