AaaVeee
We fly by seaplane to our final island stop, AaaVeee, which is one of the newest resorts in the Maldives. Committed to being environmentally friendly, the island resort makes the most of its native trees, foliage and shoreline, with sand pathways and even a sand floor in the open-air restaurant and bar. Our private villas have wood floors and furnishings that were crafted from coconut trees on the island.
It's here at AaaVeee that I feel most connected with Maldivian culture. The resort is locally owned, and seems committed to sharing the Maldivian way of life.
One afternoon, some of the staff ferry us to the tiny neighborhood island of Rinbudhoo, which has a population of 594. There, we're greeted by the island's young president, who introduces us to his family and then gives us a tour of the island. We stop at the school with its open-air classrooms, and then peek inside the mosque, which has exquisite hand-crafted wood artistry by local artisans. He shows us how the island collects rain water and stores it in huge barrels for their water needs. We meet several locals, and learn more about life here.
Diving in the Maldives
The next day at AaaVeee, we decide to go diving. AaaVeee is a well-suited for divers and snorkelers. The island has a healthy reef and a well-outfitted dive shop with skilled dive masters available to help.
While two of my friends take their first intro dive lesson, I head out on a dive. Often when I dive, we have to take a boat to the dive spot. But today, after helping me gear up, the dive master signals me to follow him. We walk down to the beach and then into the sea.
Within minutes, we reach an extensive reef. Everywhere I turn, I see wide fan coral, huge starfish and large schools of fish. The dive master points out an orange clown fish peeking out from a sea anemone, and then we snap a selfie with an underwater camera, the ocean scene our vibrant backdrop.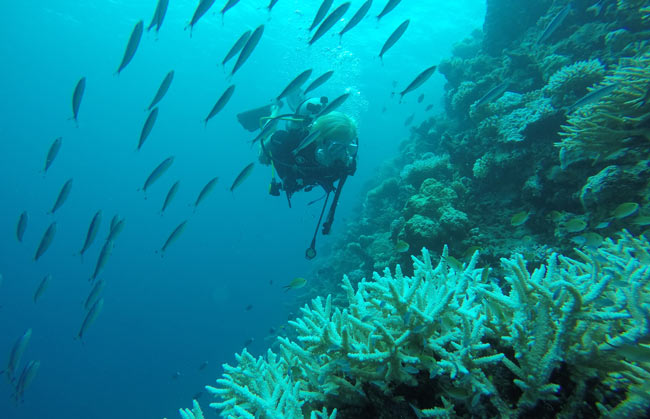 Although I love diving, I usually struggle with getting too cold. But here, the water is so warm that I don't even think of it. I continue to swim along the reef, fascinated by the diversity of sea life here. I'm disappointed when the dive master signals that it's time to go back up.
Later on, we experience the ocean from a different perspective. Fishing is an important part of life here in the Maldives, and when we get the chance to go fishing with some of the staff, I jump at the chance. Not that I'm an expert fisherman – I really don't even know how to bait a hook – but I want to experience everything I can here.
The staff don't use rods; they simply put a hook on a roll of fishing line. They help us bait our hooks, and then encourage us when we haul up our catch. The cooler is soon filled with a variety of fish; the majority are red snapper. The chef at AaaVeee has promised to serve up our catch at a beach BBQ later that evening, and I'm looking forward to this fresh seafood.
It's dark when the boat finally heads back toward the shore. "Why don't you go up on the roof deck and check out the view?" one of the staff suggests. I climb the tiny ladder and then lie flat on the roof, looking into the sky.
Without light pollution to hide them, I can see thousands of stars twinkling in the sky. I'm awed by the sight, and lie there the whole way back. As the engine hums and the boat gently rocks, I know that I'm just a tiny speck in this great big universe. But here, near these small dots of land in the middle of the Indian Ocean, I realize what a special corner of the world this is.
If You Go 
Getting to the Maldives
International flights arrive at Malé's Abrahim Nasir International airport. There are direct flights to Malé from Dubai and many European and Asian cities. Coming from the United States, I flew with Emirates, connecting to Toronto then Dubai to Maldives.
Getting Around in the Maldives
After flying to Malé, you'll take a boat, domestic flight or seaplane to your resort, depending on how far it is. If you go by seaplane, be aware that seaplanes only operate in daylight hours. Seaplanes usually land at a floating platform near the island, and then guests are transferred by boat to shore. Resorts located closer to Malé use boats for transfer.
Weather in the Maldives

Located on the equator, the Maldives has warm tropical temperatures year round, ranging from 74° F (23°C) to 90° F (32°C). It is quite humid and hot at times, so dress appropriately. The islands have two distinct seasons. From May to October, intermittent rain showers can be expected, followed by dry weather from November to April.
Currency
The Maldives currency is called the "Ruffia" (MVR); however, most resorts price items using the US dollar. Major credit cards are accepted at resorts.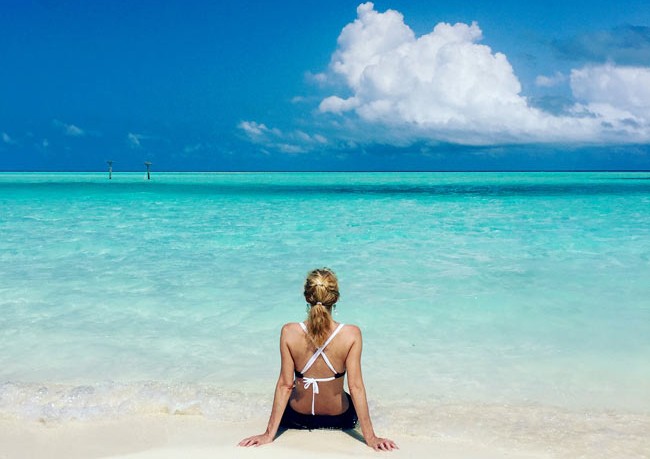 Author Bio: Janna Graber has covered travel in more than 40 countries. She is the editor of three travel anthologies, including A Pink Suitcase: 22 Tales of Women's Travel, and is the managing editor of Go World Travel Magazine.