Bankhouse Pub
Bankhouse is truly the island's information hub, a spot where you can get a bite to eat (mussels are a specialty), or attend a whiskey tasting (the one I attended was run by Liquid Curiosity, hire a guide (which will likely be a local fellow happy to take you around and answer questions) or, if you're feeling hale and hardy, rent a bike.
You can also walk the island and enjoy the lush views from the top. It is almost impossible to get lost and along the way you'll see the old schoolhouse – dated 1887 and now being renovated into a hostel – and you'll meet a cornucopia of donkeys, horses, roosters and hens, dogs and cats. I consider any trip where I don't meet local animals a waste of my energy, so Whiddy was made to order for me.
Garnish Island
Back on the mainland, the harbour city of Glengarriff is home to several hotels, and the perfect place to leave for a visit to nearby Garnish Island and its magnificent gardens. The latter are more than a panoply of lush flowers, beauteous botany and intoxicating scents, though they are that.
They are home to a Martello tower, an Italian villa, a Greek temple and the stately historic home (now a museum) of the wealthy Bryce family, who once owned Garnish and bequeathed it to Ireland over 60 years ago. I had a guided tour with Head Gardener Finbarr O'Sullivan, and I have to say that his name alone made my day.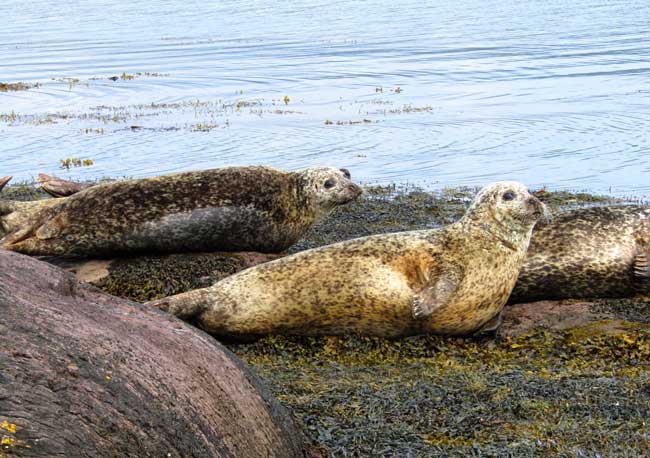 Enjoy the journey, they say, and worry less about the destination. My time on the island was topped off with seeing a pair of eagles and a colony of harbour seals while on the journey back to the mainland. The ferry conductor graciously stopped the boat for us to have a proper view and photo-op. These smiling seals, lolling about on the rocks and humoring the ridiculous visitors, were everything for me.
Bere Island
It's a short drive over to Castletownbere Harbour, the ferry dock for a visit to Bere Island, the most populous of the four, at approximately 220 residents (Garnish has no permanent residents). Like Whiddy, Bere offers bike rentals, for those fit enough to navigate the winding, often uphill roads. Like Whiddy, it also has a strong and interesting military history, and views from the top which are stunning.
Rerrin is Bere's main town, and the local convenience store, Murphy's, has a bakehouse in back which offers delicious scones (and scone-making demonstrations, if your timing is good) and friendly gab.
I was there shortly after the abortion referendum, which was a hot topic, as were the English, midges (mosquito-like biters in Ireland's summer months) and rugby. When I told people I was from Toronto, the relative cuteness of my prime minister was up for debate, as well.
It was outside Murphy's that I met some lovely young Irish soldiers on a training exercise; Bere's steep climbs are good for team-building. The lads flattered my Canadian soul by telling me how much they enjoyed working with Canadian soldiers abroad.
While it may not have been a standard beach holiday, I am glad I brought sunblock – the days are wonderfully long in an Irish summer and the sun is powerful even when hidden. For the record, there are plenty of beaches to be found on all four islands and on the mainland, if you are so inclined, though you'll have to supply your own mediocre bestseller.
If You Travel to Ireland:
Learn More: Video, Ireland's Wild Atlantic Way
BIO: Rondi Adamson is a writer in Toronto, Canada. She has lived in Japan, France, Italy and Turkey and traveled to many other countries. A former columnist at the Toronto Star, she has been published most recently in the Wall Street Journal, the Christian Science Monitor and Huffington Post. She is an animal-lover and a big fan of Indian food.