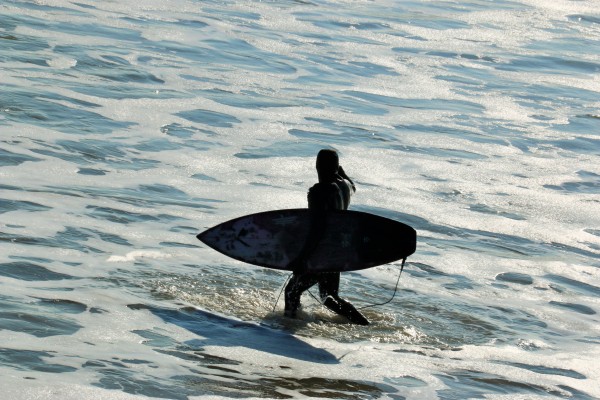 Surfing in Ile de Ré
But I haven't travelled to Ile de Ré for the luxury of indulging in fine wine, enjoying spectacular bird-watching or treating myself to delicious local seafood and oysters. My priorities? Fresh air, exercise and surfing. It's the beautiful turquoise waters and water-sports that draw me to Ile de Ré, actually no longer an island as such since a 3 km bridge linked it to the neighbouring town of La Rochelle in 1988.
Ile de Ré offers just about every water-sport imaginable and you can surf to your heart's content, try kite-surfing and wind-surfing, or the newest rage, stand-up paddle surfing. The ideal position of Ile de Ré, with its southern coast turned towards the west, welcomes swells from the Atlantic's open sea.
The best surfing spots are mainly located on the southern beaches, namely from east to west the beaches of Rivedoux, Les Grenettes in Sainte-Marie-de-Ré, Gouillaud in Le Bois-Plage-en-Ré , La Pergola in La Couarde-sur-Mer, Grignon in Ars-en-Ré . On the northern coast, the best spots are found in La Conche des Baleines, Le Lizay, Le petit Bec in Les Portes-en-Ré, and Diamond Head in Saint-Clément-des-Baleines. If you are unsure where to find these waves of pleasure, ask – or follow the local surfers or rely on the many professional surfing schools on the island.
With this in mind, Ile de Ré seems an obvious destination for a spring adrenalin kick and a good dose of sunshine while on a visit to Europe. Just 20 minutes by bus from La Rochelle, the ride is cheap and takes you across the spectacular bridge over the sea. Ile de Ré might have been designed for the bicycle as it's flat and boasts some 100 kms of designated scenic cycle paths.
The island claims excellent surfing spots and a wealth of 'action holiday' escapades. Keen surfing enthusiast that I am, the opportunities to get my wetsuit damp in the spring dwindled significantly since I moved to Paris. Three hours 15 minutes away from Paris, I found a surfer's heaven and a friendly surfing community of locals. A place where the great wind blows.
 If You Go to Ile de Ré:
How to get there : direct train from Paris in 3.15 hrs. Bookings on www.voyages-sncf.com with cheapest rates 3 months in advance.
More on www.iledere.com
Surf school : www.re-surf.com
Kite-surf school : www.ilederekitesurf.com or www.philovent.fr
Stand-up paddle across the salt pans :  www.supevasion.com
[mappress mapid="972″]