San Jośe del Cabo
Hyatt Ziva is located five minutes from downtown San Jośe del Cabo, and this small town is definitely worth visiting. While nearby Cabo San Lucas was developed with the expat and tourist community in mind (and a definite party scene), San Jośe is a real Mexican town with an authentic charm. True, it's only several blocks wide, but that means it's easily walkable. Art galleries, restaurants and artisan shops line most of the streets, also with an occasional pharmacy or souvenir shop. While some vendors in Cabo San Lucas can be assertive in showcasing their shops, San Jośe is quiet.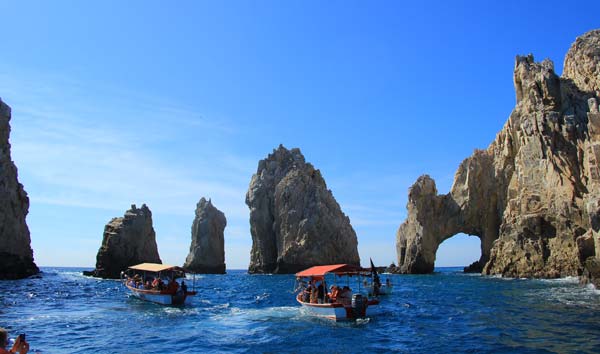 Ocean Adventure

The major draw to this region is the sun, sand and the sea. Cabo Adventures is a well-known and very professionally-run adventure outfitter, offering everything from swimming with dolphins to kayaking and snorkeling tours. During our half-day snorkeling trip with them, we boated past Cabo's famous arch – a must-see landmark – before heading out to our snorkeling site.
Hurrican Odile tore out the beach that had been near the Arch, and now you can boat quite close to the famous icon. From there, our zodiac pontoon boat zipped across the water for 45 minutes before pulling into a protected harbor to snorkel.
After dropping anchor, we jumped into the 80-degree water, which had 30-ft visibility. The seas were filled with schools of brightly colored fish. I opted to try one of the scuba scooters, a small electric device that pulls you through the water. You can dive with it or skim the surface at one of three speeds. Although its quiet hum was a little distracting, it was fun to scoot through the water with no effort at all. Surprisingly, the fish didn't seem to notice the sound. Our guide said they had grown accustomed to it.
After a while, I turned the scuba scooter back in and returned to snorkel with just my own fin power. I stayed in the water for almost an hour, a record for someone who always gets cold in the water.
Perhaps the best part of my time at Hyatt Ziva Los Cabos was the beautiful weather. While it was snowing back in my native Colorado, I was playing in shorts or sunning on the beach. I made sure to post photos for my friends on Facebook. It was enough to make anyone jealous.
If You Go to Los Cabos

Hyatt Ziva Los Cabos
allinclusive.hyatt.com
Visit Los Cabos
visitloscabos.travel
Cabo Adventures
cabo-adventures.com
Travel Tips:

The best time to come down is in the fall or early spring. The weather isn't as hot as in the summer (when it can be very hot) and prices are lower.
If you fly through Phoenix, take an early morning flight. Flights to Cabo only go out in the morning, so if you miss your connection (like I did), you're stuck in Phoenix for the night.