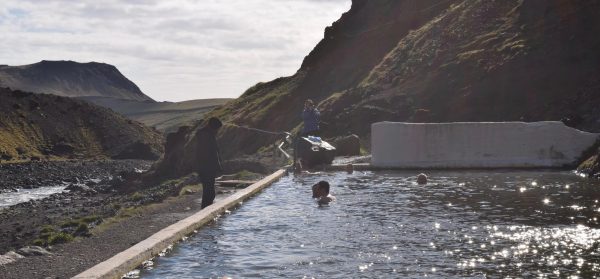 But here in Iceland, as my older daughter notes, "All these women are just talking and laughing with each other. But they're naked. It's like it's no big deal."
"Of course it's no big deal!" I say. "See, we are all women. Women have all different kinds of bodies, it's all okay." The girls dutifully nod and I wish I believed that as much as I profess.
As the week goes on, I find myself growing less and less self-conscious in front of other women. Rather, it becomes strangely comforting. Surrounding me are bumpy tummies and C-section scars, pointy and saggy breasts, wrinkly bums and un-coiffed pubic hair. Clothes are artifice. Bras prop less than perky chests, Spanx suck in the cellulite. Clothes make woman much more intimidating. Naked, we are all approachable members of the same tribe.
The American woman finally comes out of the bathroom. The Icelandic woman points emphatically to the sign above us on the wall outlining the parts of the body that must be washed before swimming (head, armpits, crotch and toes…) and barks, "You must shower naked!"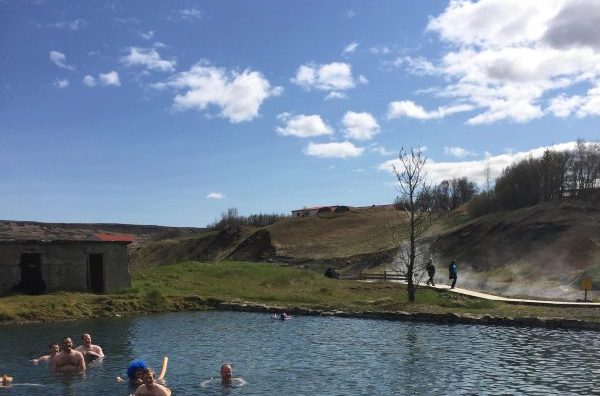 The tourist looks back at her, eyes wide, and nods embarrassed, clutching her clothes to her chest.
I can't help but smile. Welcome to the club sister.
If You Go to Iceland:
Blue Lagoon: http://www.bluelagoon.com
Seljavallalaug: https://en.wikipedia.org/wiki/Seljavallalaug
Secret Lagoon: http://secretlagoon.is
Showering in Iceland: https://www.youtube.com/watch?v=aUXqmgTuNww
Author Bio: Dana Getz is a writer, yoga instructor, entrepreneur, mother and traveler. When not exploring the world, you can find her enjoying the simple life in Pittsburgh with her family and one-eyed cat.