Editor's Note: Please check local regulations and safey guidelines before you go. We share places, products and activities we recommend. If you make a purchase using a link on our site, we may make a commission.
The holidays are a great excuse to travel somewhere new with the ones you love. If you're looking for a fun place to spend the Christmas or holiday season without spending thousands on a plane ticket to Europe, it's time to check out some of the most unique holiday destinations in America.
Whether you're looking for a warm climate or a snowy one, an urban holiday or a wilderness vacation, make sure wherever you go, you leave enough room in your suitcase for all the goodies you'll find on your adventure.
Williamsburg, Virginia
Colonial Williamsburg is something quite special during the holidays. This 18th-century town is the world's largest living history museum, boasting over 40 sites and trades, four historic taverns, and much more. You'll feel like you've stepped back in time to Christmas during the days when America was just beginning.
Williamsburg runs like a living town with hundreds of historical reenactors telling the stories of women, men, and children—free and enslaved—who made up this new world.

This year, the modern town of Williamsburg, VA will be celebrating the 10th anniversary of Christmas Town, a yuletide festival that features over 10 million lights, unique holiday shopping, magical Christmas shows and festive food and drink. The celebration takes place at Busch Gardens and will be open a week early, starting from November 17 until January 5.
To better explore this wonderland, take a ride on the all-new Christmas Town Express, a train that circles the festivities and allows riders to admire all the lights from the comfort of a Polar Express-like perspective. Activities include options for families with children and adults alike so that no one will be feeling left out this season.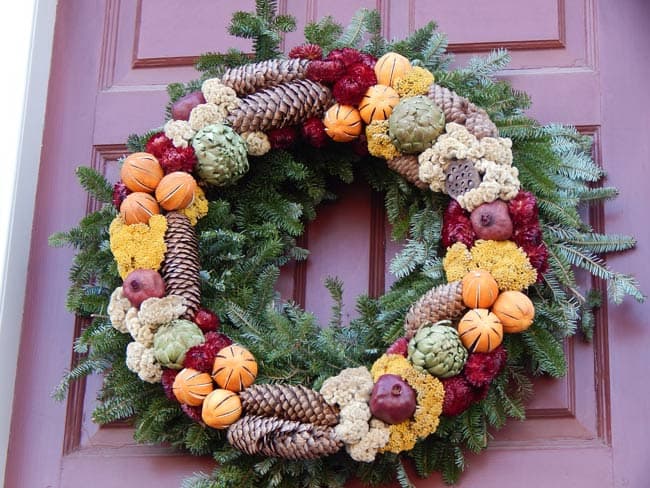 If you're bringing kids with you, stop by Rudolf's Winter Wonderland for photos with Rudolf and all the characters from the original "Rudolf the Red-Nosed Reindeer" movie. For shopping, check out The Stocking Shoppe, which sells stocking stuffers ranging from Rudolf ornaments to holiday pajamas.
For the not-so childlike, wine tasting will be available at French and Italian wine shops, as well as wine-themed gifts and collectibles. The gift shopper's go-to location is Ornament World, a shop that sells ornaments from all around the world with the sole purpose of brightening your Christmas tree.
Christmas Town also features seven holiday shows for children, adults and the whole family. The season will be brought to life with "Deck the Halls," a Christmas musical where you will be invited to sing along with Frosty the Snowman and toy soldiers come alive. The entire village will be merry and musical all season long.
New York City, New York
Even though the weather might be chilly, a holiday season in the Big Apple could not be more magical. Warm your heart with the New York Philharmonic's Christmas show, "Holidays with the Philharmonic." They will be performing classics such as "White Christmas" and "Winter Wonderland" this year.
Don't forget about Macy's Santaland, where Santa will be waiting to hear from all the children starting on November 24, 2018. If a visit to Macy's doesn't kick off your holiday season in the right way, New York City is chock full of holiday bakeries within walking distance of classic holiday hot spots such as the Wollman Ice Rink and Rockefeller Center. If you don't feel like standing in a long line, try ice skating at Wollman, which offers a terrific view of the city from its Central Park location.
Find the perfect place to stay in NYC at the perfect price here.
As far as shopping goes, all your holiday gifts are sure to be found at the Bank of America Winter Village at Bryant Park. The village will be covered in kiosks and tents selling unique, handmade and international gifts. The shops will be open starting from October 28 until January 2, and they will be open from 11 am-8 pm on weekdays and from 10 am-8 pm on weekends. The ice rink will also be open from 8 am-10 pm every day, weather permitting.
If you're in the mood for a show, the New York City Ballet will be performing "The Nutcracker" from November 23 until December 30. The Guggenheim will be putting on "Peter and the Wolf" from December 1-9. These musicals and more make a New York Christmas worth the crowds.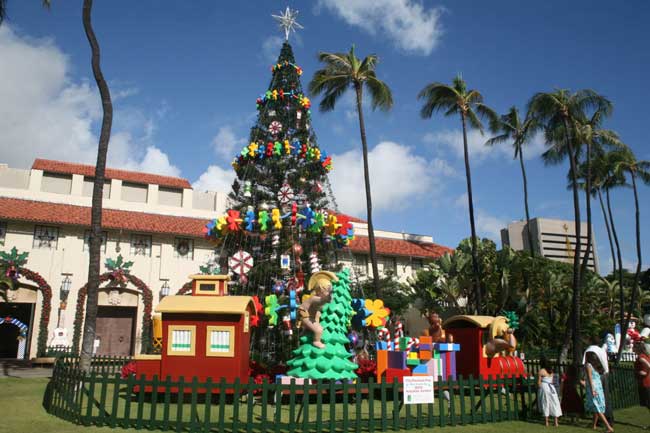 Honolulu, Hawaii
Everyone knows the Hawaiian Christmas tune "Mele Kalikimaka," but have you ever thought about spending this winter holiday on the beach? Honolulu knows just how to kick off your Christmas. On December 8th, Santa himself will come ashore via rowboat at the Outrigger Waikiki Beach Resort at 9 am. After his arrival, Santa will be available to take photos in the lobby of the hotel.
A Hawaiian Christmas may be unconventional, but the holiday is still done right in Honolulu. All through December, a live nativity will be on display at the Kawaihao Church in downtown Honolulu at 7 pm. The nativity will feature live music, a queen's blessing and keiki (children's) fun.
The Ala Moana Center, a shopping mall in Honolulu, will be putting on holiday hula shows at 1 pm every Monday through Saturday throughout December. You can watch the show before wrapping up your holiday shopping, and the mall will even be open on Christmas Eve, so you can find some last-minute gifts then.
Then take a drive through downtown Honolulu, which will be aglow through December 31 with enormous holiday light displays. You can take a Waikiki Trolley downtown or take a tour on a firetruck through the displays.
The Polynesian Culture Center will be celebrating the 12 Days of Christmas from December 10-23. And on December 19, the Center will be bringing in flurries of fresh snow for a Snow Day. Visitors will be able to build snowmen, make snow angels or just frolic in the snow, so make sure you bring a scarf and gloves. The event will also feature live music, boat rides, train rides and holiday discounts inside the shopping center.
Honolulu will have its Season's Best Craft & Gift Fair from December 18-20 at the Neal S. Blaisdell Center Exhibition Hall. The fair happens twice a year, once in October and once in December, and features clothing, jewelry, chocolates, woodcrafts, handbags and more. All the vendors will be Honolulu locals, and the gifts will sell fast, so make sure you get there early!
The Grand Canyon, Arizona
Avoid the summer crowds and unbearable heat and take a trip to the Grand Canyon for Christmas. (Side benefit: You'll also be much less likely to come across a rattlesnake in December). The Grand Canyon has a little something for everyone when it comes to celebrating the holidays, but kids will especially get a kick out of this destination.
The Grand Canyon Railway's Polar Express will be making trips from Williams, Arizona to the "North Pole," where Santa Claus will be waiting with his reindeer and a gift for all the good little boys and girls.
The trip lasts approximately 90 minutes, and hot chocolate and chocolate chip cookies will be available to hold you over during the journey. Trains will be departing every day at 5:30 and 7:30 pm through November, December and even into January. You can even make a special trip on Christmas Eve! Prices vary, and space is limited, so make your reservation soon at https://www.thetrain.com/events/polar-express/.
As far as your Christmas Eve dinner is concerned, the El Tovar Lounge will take care of that. The El Tovar hotel is the Grand Canyon's most popular and esteemed lodge, and the dining room serves guests year-round. Reservations are highly recommended, as space is limited.
You can make your reservations up to 90 days in advance. The dining room will be open early on Christmas Eve at 4:00 pm and will serve dinner until 10:00 pm. El Tovar hotel guests may make a reservation, and all other guests will be served on a first-come, first-served basis.
Of course, the Grand Canyon is still miraculous even in winter, so during your holiday vacation, take the time to see the sights. Remember that winter conditions can be extreme, and the weather is unpredictable, so dress in layers and be prepared to feel cool even while hiking. The Rim Trail is a short, safe and scenic hike just a short distance from the El Tovar hotel. Who needs a Christmas tree when you could have a desert winter wonderland all to yourself?
North Pole, Alaska
Yes, there really is a town in Alaska called North Pole, and yes, they really do celebrate Christmas all year round there. The town is only a 15-minute drive south of Fairbanks, Alaska's capital, and is home to the 2,200 biggest Christmas lovers you'll ever see.
Come to the North Pole if only to visit the Santa Claus House, an old general store and post office that has been turned into a holiday shop. Each year, over 400,000 letters arrive at the Santa Claus House addressed to, "Santa Claus, North Pole, Alaska," and teams of community members work together to respond to each letter. You can even order a letter to be sent to your child, grandchild or another relative while you're visiting the Santa Claus House.
In late November, you can catch North Pole's "Christmas in Ice" exhibit, an ice art contents which attracts ice sculptors from around the world. The contest uses chainsaws and about 600 tons of ice from the North Pole. An ice maze and ice slide will also be on display throughout December, and you can even make this a family destination on Christmas Day.
The ice contest is part of the Winter Festival, which celebrates the holidays with fireworks, activities and shopping. The Santa Claus House sells items such as clothing, jewelry, ornaments and toys. You can also have your photo taken with Santa, who will be available to meet with children every day. If the North Pole doesn't get you and your family in the loving holiday spirit, it's likely that nothing will.