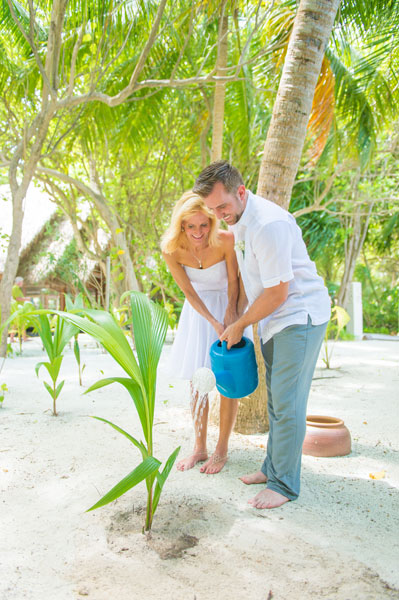 Back at Baros, we planted a coconut palm together, symbolizing how our love would grow. We both wondered how long it would take the palm to grow, and more importantly, when we could come back to see its progress.
We hoped it wouldn't be long.
Though it may not be the usual post-wedding activity, we spent the afternoon diving. The dive master led us from the shore to the reef, where we saw hundreds of different coral and fish species. Even harmless black-tip sharks and sea turtles made an appearance.
At sunset, we had a romantic dinner complete with wine pairing at The Lighthouse, an over-water pavilion with a white sail roof. This iconic beacon is visible from miles away and is known as one of the best restaurants in the Maldives.
Happy from our day, we walked back along the lantern-lit boardwalk to our villa. Opening the door, we found pink blossoms in the shape of a heart across our bed.
Candles lit up the room, and a warm bath had been drawn, topped with bubbles and flowers.
We could only look at each other and smile. Our wedding day couldn't have been any better.
If You Go
Baros Maldives
Baros.com
Baros has several wedding/vow renewal packages, starting at $1,650. Photography services are also available. Guests must stay at the resort to hold or attend a ceremony. Wedding ceremonies in the Maldives are ceremonial only. See your local administrators to file legal marriage documents.
How to Get to the Maldives 
To reach the Maldives, we flew from Boston to Doha and then to Male with Qatar Airways. Flights are also available from Dubai to Male with Emirates Airways.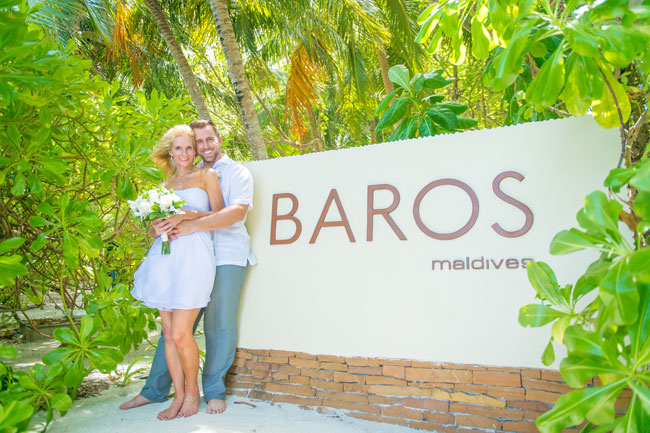 Author Bio: Janna Graber has covered travel in more than 40 countries. She is the editor of three travel anthologies, including "A Pink Suitcase: 22 Tales of Women's Travel," and is the managing editor of Go World Travel Magazine (www.goworldtravel.com).
Dear Readers: This post may contain affiliate links, which means we may receive a small commission, at no cost to you, if you make a purchase through a link. All opinions are our own and we don't share things unless we think they're great! Thanks for your support.