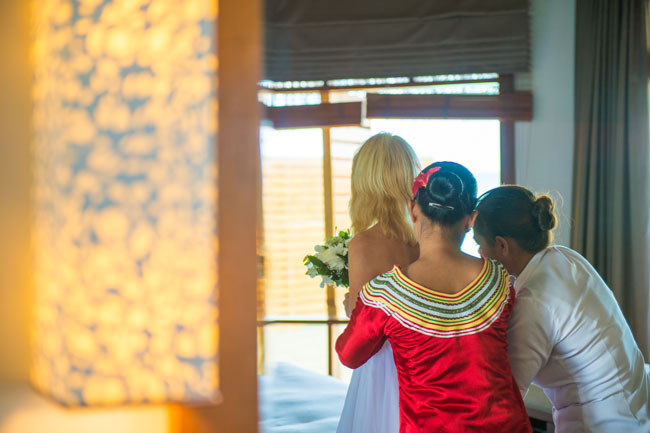 Getting Married in the Maldives
On the second day of our visit, we met with Domi, the skilled event planner at Baros. She asked if we had any special wishes and then gave several excellent suggestions. The wedding packages at Baros include the ceremony, cake, flowers and even a romantic dinner. Twenty minutes later, our wedding had been planned. We didn't have to worry about a thing!
On the morning of our ceremony, Domi helped me to get ready. Then the traditional Maldivian Bodu Beru procession led me from our water villa to meet my groom.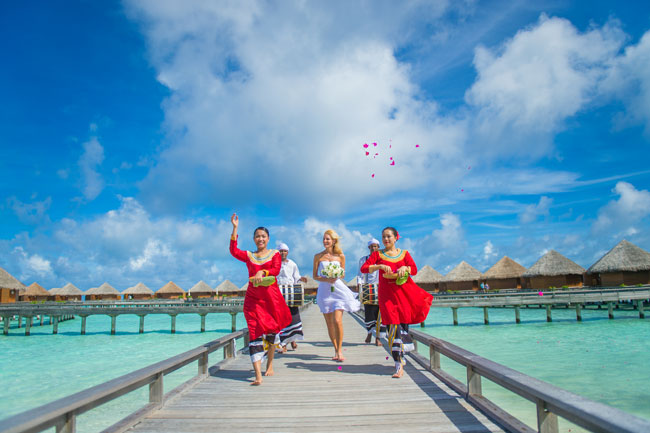 As we crossed the lagoon bridge, I could see fish swirling in the water below. Coconut palms swayed overhead as I continued barefoot along the white sand path toward my fiancé. The smile on my face couldn't have been any wider when Benjamin greeted me at the pier and the procession continued by boat to the sandbank.
The sandbank looked like a scene from a wedding magazine. The islet's white sand reflected in the aquamarine seas, while a deep blue sky added its own hues.
The wedding procession continued to a white wedding canopy adorned with flowers. The canopy drapes flowed in the breeze. Dressed in a traditional sarong, the master of ceremonies led us in our vows.
Afterwards, we shared a white wedding cake and champagne. Every little detail had been taken care of, from the beautiful flowers to the flavor of the cake and our champagne ceremony. All we had to do was savor the experience.
Continued on next page