Erfurt is one of those fairy tale cities where there's astonishment around every turn — It was exactly the type of place I'd come to Germany to see. Yet it was also a place where I could now imagine Martin Luther in his monk's cowl striding through its streets.
Visiting Eisenach, Germany
"My beloved city" is what Luther called the town of Eisenach, where I had my next soulful stirring. It was a town important to him at two points in his life, the first when he was a young boy and attended the local grammar school.
What's called "The Luther House," where he boarded with a local family, is now a museum focusing on Luther's translation of the Bible into German, a potentially dry subject but one I found quite absorbing.
I learned that Luther was so intent on getting the translations right that he not only consulted experts in Greek, Latin and Hebrew, but also butchers for Biblical passages referring to meat — he wanted to find just the right word, and when one didn't exist in German, he made it up.
His invented vocabulary and metaphors still pervade modern German, just as the King James Bible does in English. Elsewhere in the museum are exhibits on his influence on German music, especially on Bach, and on German literature — Bertold Brecht, an atheist, admitted that no other work of literature had greater influence on him than Luther's Bible.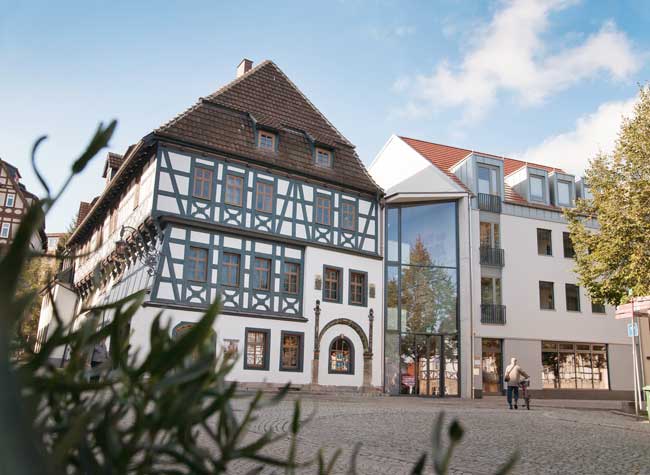 While I was intellectually stimulated at the Luther House, I wasn't emotionally moved. Nor did any shivers go up my spine at the other place in Eisenach where modern-day pilgrims frequently find it happening — the magnificent castle on a mountain overlooking the town.
Wartburg Castle is where Luther spent time in Eisenach as an adult after the pope labeled him a heretic and an outlaw, basically declaring "open season" on him after his refusal to recant at the Diet of Worms. His powerful protector, Frederick the Wise, Elector of Saxony, had Luther kidnapped and brought to Wartburg where he spent 10 months hiding out, disguising himself as "Squire George," letting his hair and beard grow and wearing aristocratic clothing.
The simple "Luther Room" in the castle, the place where he got started on his Biblical translations, is a place of reverence for Luther devotees, but oddly, I was little touched by it. The only item in the room that was there during his stay is a huge whale vertebra, which he used as a footrest. It's said that Luther threw a pot of ink at the wall in this room while wrestling with the devil, but many regard this tale as apocryphal and the ink stain disappeared long ago. The room was also musty and dimly lit — maybe that too contributed to my inability to connect.
But then — wham! — another emotional encounter, and as so often happens, it came when least expected. I'd gone back down the mountain into Eisenach and made a stop at St. George's Church, the stately church presiding over the town's main square. Luther sang in the boys choir there as did Johann Sebastian Bach, born in Eisenach two centuries later.
I was staring at the pulpit where Luther may have preached, the baptismal font where Bach was christened just underneath it. I was surrounded by fellow tourists I'd just seen at the castle or around town. Suddenly, the magnificent organ up in the loft unexpectedly swelled with soul-stirring music so sublime I burst into tears, not just because of the music, but because of a sense of convergence. I felt a connection with Luther, with Bach, and with the tens of thousands of visitors across the centuries who've been touched by this spiritual place. It felt as if the man who'd composed "A Mighty Fortress is Our God" was there, just out of sight.
Churches in Meissen, Germany
Perhaps not surprisingly, other emotional encounters took place inside churches. In Meissen, a city better known for its exquisite porcelain, I heard an unforgettable choral concert by the Bach Society of Houston with voices so harmoniously balanced they reverberated throughout the gorgeous Meissen Cathedral.
I met Reverend Robert Moore, also from Houston, a pastor with the Evangelical Lutheran Church of America, who's serving as a "Reformation ambassador," welcoming groups from the U.S. I came away with the sense of how many thousands of pilgrims are making their way to Germany this year in a form of spiritual quest. A bit belatedly perhaps, was I becoming one of them?
Continued on next page