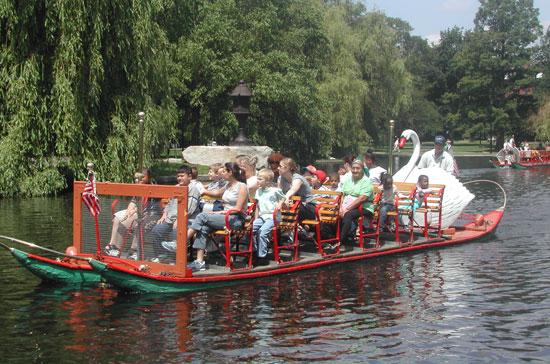 Family Travel in Boston

Like Charleston, Boston is also a beautiful harbor town and rich with American history. It is the place where America, or at least the idea of it, was conceived. And seeing these historic places in the flesh brought all that history to life, especially at some of the more popular attractions such as the Freedom Trail, the Old State House, and Bunker Hill.
Bostonians are very proud of their role in the path to Independence, but the city also had an important role during the Civil War. In 1863, Robert Gould Shaw, a young white officer from Boston, volunteered to lead the 54th Regiment of Massachusetts—the first black regiment recruited by the North. The 54th Regiment lead an assault on Fort Wagner in an attempt to capture Charleston. Shaw and many of his soldiers were killed in the attempt.
The Black Heritage Trail is a walking tour that explores the history of Boston's 19th century African American community. It begins at the Robert Gould Shaw Memorial on Beacon Street and ends at the Museum of African American History.
Several of the Boston Harbor Islands serving as training grounds and testing sites for the Union army. Fort Warren, on Georges Island, served as both a training camp and a Confederate prisoner-of-war prison. Now a National Historic Landmark, most of the fort is accessible, with barracks, dark passages and old prison cells to explore—perfect for curious school-age kids. To commemorate its Civil War history, Boston Harbor Island has special events planned for all four years of the Civil War Commemoration.
Return to Charleston

Several years have passed since I first explored the streets of Charleston with an infant and pushed toddlers in a stroller through Boston, but my family and I have gone back time after time to visit both classic cities. Each time, we've found age-appropriate activities that made for memorable family vacations.
This year, I'll return again to Charleston. That once colicky little girl is now graduating and to celebrate, she and I will return to the city where our first travel adventures began. This time, we'll explore as adults, dining on low-country cuisine, shopping in the Old Town Market and visiting southern plantations. But first, we'll head down to Waterfront Park to swing on the giant porch swings and take in the smell of the sea, just like we did long ago.
If you go
Whether you're visiting Charleston or Boston, here are some other great sights to see in each city:
Charleston
Sullivan's Island – a laid-back beach nestled at the mouth of Charleston Harbor. Just 3.3 miles long, the beachfront lands are owned by the town and carefully preserved.
Explore Charleston's coastal waterways. Kayak or ferry to Bull Island and Cape Romain National Wildlife Refuge, the longest protected coastal stretch on the eastern seaboard.
South Carolina Aquarium – home to stingrays, jellyfish, alligators and more is well worth the visit. Touch tanks, daily dive shows and interactive programs help to keep kids engaged.
Boston
Museum of Science – a must-see attraction filled more than 500 interactive exhibits, with live presentations throughout the day.
The New England Aquarium – another must-visit attraction. View the fur seals, giant octopus, sea lions, penguins, sharks and more.
Swan Boats at Boston's Public Garden – operated by the Paget family for more than 100 years, this is obviously a favorite Boston pastime.
Boston Duck Tours – a better way to tour Boston than in a refurbished WWII amphibious landing vehicles. Sure, the boats may look a little silly, but the Duck Tour drivers are knowledgeable and funny—a good combination if you're 10 and being driven around to see historical sites that will, no doubt, someday show up on one of your history tests.
Author Bio: Janna Graber has been covering destinations around the world for more than 12 years. She is a travel editor at GoWorldTravel.com.