Built in 1886, the Winter Palace has changed little since the day Carter told the world about the discovery by posting a notice on the hotel's bulletin board. Lord Carnarvon had taken a suite in the hotel, and Carter was a frequent guest. The hotel became the press center for the discovery, which became a worldwide sensation – unleashing what the Americans called, "Tut-mania."
"The idea of buried treasure is one that appeals to most of us," Carter wrote. From grand movie palaces in Hollywood to the famed Chrysler Building in New York, architects became fascinated by Egyptian art, incorporating it into their Art Deco designs, while starlets placed dark black makeup under their eyes to mimic the look of Egyptian women found on 3,300-year-old drawings.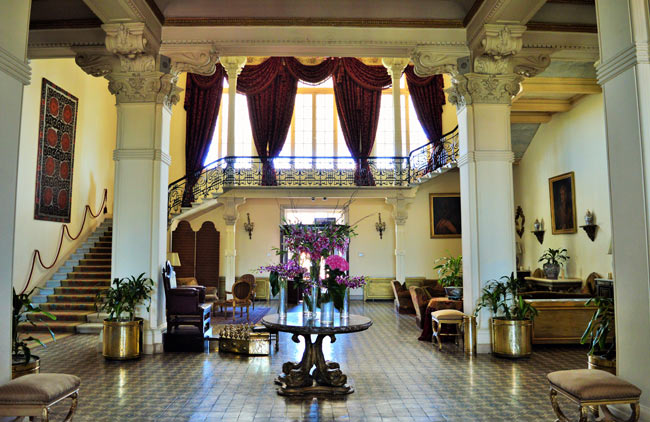 Sofitel Winter Palace Luxor
At the center of "Tut-mania" and headquarters for the international press corps following the story was the Winter Palace Hotel. Today, standing in the lobby, it's easy to picture men in white suites and hats and women in the long dresses of the 1920s standing on the same tile floor, anxious to hear about the latest treasure coming from the tomb. The hotel is a classic piece of Edwardian England — as if Downton Abbey had been picked up and dropped in the desert. Which could not be more appropriate. Lord Carnarvon's home in England was Highclere Castle – the gorgeous Jacobethan country house that was destined to later be filmed and become the fictional Downtown Abbey.
The outside entrance to the hotel is a curving marble staircase covered with a red carpet. Passing through a wood revolving door, the lobby is cool after the hot Egyptian sun, with a grand staircase at the far end, lined with a curving ironwork balustrade. Brilliant chandeliers hang from above in a three-story atrium. There are overstuffed chairs, palm trees in brass planters, paintings of famous Egyptians and a most unusual wood and brass shoeshine chair that occupies the center of the room. Hotel staff will greet you with a cold karkade, a refreshing hibiscus tea.
Egyptian King Farouk, the last king of Egypt, was a frequent guest of the hotel, which also entertained Winston Churchill, Princess Caroline of Monaco, Jaqueline Kennedy, Tony Blair and Prince Charles and Lady Diana.
The lobby pours out into the highlight of the hotel — a 40,000-square-meter garden. Filled with 50 different types of trees, the garden offers quiet paths ringed with pink bougainvillea that wind past fountains and small plazas. Bananas, lime, orange and other fruit trees add fragrance to the air. Keep an eye out for Hod Hod birds that still roam the gardens. The long beak birds are depicted on 3,500-year-old drawings in the nearby Luxor Temple.
Continued on next page