Train Enthusiasts, Families and More
The Cumbres & Toltec attracts train enthusiasts, as well as families and others who want a unique way to see this part of the United States. The train has three classes of cars. The Parlor Car is for those over 21 who want continental breakfast and alcoholic drinks along the way. In the Deluxe Tourist Car, passengers sit at tables, with snacks and drinks provided. Coach class is the most economical, with cushioned bench seating. All passengers enjoy a huge buffet lunch when the train stops midway in tiny Osier, Colorado.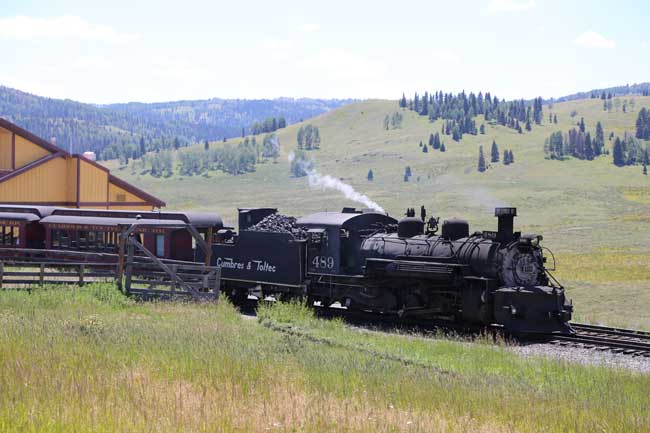 Pagosa Springs, Colorado
After our relaxing daytrip on the train, we make the 55-minute drive to Pagosa Springs, Colorado. Since Chama, NM and Antonito, CO have few accommodation options, many choose to make their base in Pagosa Springs, a rightful destination on its own.
For decades, travelers have come to Pagosa Springs to soak in its mineral-rich hot springs – and we're no exception. We spend our first evening at the world-class Springs Resort & Spa, home to 23 therapeutic hot springs, and later visit the Victorian-style Hot Mineral Baths at Overlook Hot Springs Spa.
This town of 1,700 is located 35 miles north of the New Mexico border on the Western Slope of the Rocky Mountains. The mix of mountains and high plateaus means Pagosa Springs has an unusually mild climate with more than 300 sunny days a year, making it a mecca for those who love outdoor adventure.
During our visit, we see kayakers, stand up paddle boarders and tubers floating down the San Juan River in the heart of town. When we hike some of the 650 miles of trail nearby, we pass backpackers, cyclists, mountain bikers and hikers. In winter, skiing, snowmobiling, dog sledding and snow shoeing are popular activities.
By the end of our trip, I realize that we haven't planned enough time in this part of Colorado. A return journey might be in order, so I'm already planning it as we head out of town.
If You Go
The Cumbres & Toltec can be boarded in Chama, NM or in Antonito, CO. Passengers take the train one way, and return the other direction via motor coach (included in your ticket). See cumbrestoltec.com
Pagosa Springs, CO
Pagosa Springs, Colorado is a 55-minute drive from Chama, NM, and has many accommodation options. We stayed at the Hillside Inn, a nice property near the heart of town.
Pagosa Outdoor Adventures
To rent bike, tubes, kayaks and more, talk to Toby or Dan at Pagosa Outside Adventures at 350 Pagosa Street. They have almost everything you'll need to enjoy the outdoors in Pagosa Springs.
For more information on Pagosa Springs, Colorado, see visitpagosasprings.com.
Author Bio: Janna Graber has covered travel in more than 40 countries. She is the editor of three travel anthologies, including "A Pink Suitcase: 22 Tales of Women's Travel," and is the managing editor of Go World Travel Magazine (www.goworldtravel.com).