Vista Verde Guest Ranch
970- 879-3858
58000 Cowboy Way, Clark, CO 80428
www.vistaverde.com
The Vista Verde sign indicates you are finally "home" at the ranch, a luxury setup with magnificent horses, delicious aromas of leather, hay and sweet equine sweat, and folks gussied up in Western apparel.
Vista Verde offers that Western experience, tailored for those who also want to be "on vacation" with all of the amenities. You won't be roughing it here.
Just outside of Steamboat Springs, a bit past tiny Clark, Vista Verde is a three-hour drive from Denver. It's one of Colorado's handful of upscale guest ranches, and it offers truly gourmet cuisine and fine wines, luxurious accommodations (think fancy log homes), and meticulous customer service.
You get the dude ranch experience but in a supremely pampering way. Yet, Vista Verde's lack of pretension makes all the luxuries feel natural and cozy. You'll want to settle in here and stay, and you'll feel like you belong.
Vista Verde is also one of a few ranches open in the winter. Even in late March, there is abundant, deep, powdery snow — so much that the ranch has to plow out a path for the horses.
The log homes for guests surround the snowy meadow used for winter horseback riding (too much snow for free riding in the surrounding national forest) and for Nordic skiing.
Vista Verde sports beautiful design materials throughout — stone, slate, wood, pottery and earth-tone fabrics that delight the senses and relax the mind. The great room is where you'll partake of the nightly "happy half hour" before dinner, with amuse-bouches worthy of any top restaurant along with wine and beer.
Romantic winter getaways are found here, too, with each large log cabin having a private porch hot tub, a stocked fridge with wine, beer, soft drinks and juices, and a roaring fireplace.
After an invigorating afternoon of snowshoeing, skiing or horseback riding, snuggle and prepare for the evening's culinary delights, or take in a wine-tasting, photography or cooking class. If you're not into cold weather, you can always ride in the ranch's new full-sized, heated indoor riding arena.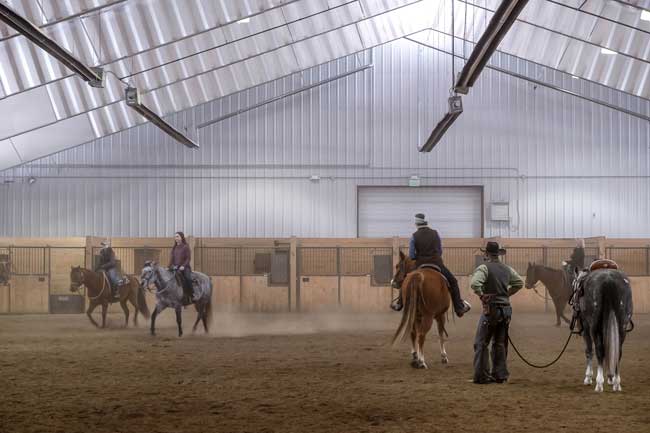 You can enjoy backcountry Nordic skiing and telemarking, with full equipment included. The terrain at Vista Verde gets plenty of snow and affords spectacular scenery as well as tranquility.
You can also snowshoe, skate ski, or do classic track skiing if you choose, and again, all equipment and instruction are included.
Just into some no-skill-required fun? The ranch hands will take you up the hill on the snowmobile and you can whisk down in a snow tube, over and over until you and your rear are tired. Another special perk of Vista Verde is its proximity to world-class downhill skiing at Steamboat Springs, just 30 or so minutes away.
The ranch's unusual B&B stays, or as they quip, their BL&D stays (breakfast, lunch and dinner), include meals and on-your-own activities. Guests are on their own to just enjoy their cabins, hot tubs, ski and snowshoe trails, and the views.
There are also evening programs. Some ranch activities are available at an extra charge.
Rates for a weeklong, all-inclusive stay from June 4-October 8 range from $2,795 to $4,695 per person. Rates for winter stays (until March 23) range from $1,295 (three-night stay) to $2,975 (seven-night stay) per person. There is no additional service charge or gratuity, and there is no expectation of tipping.
Thinking about a new way to get away from your everyday life? There is nothing like listening to horses being saddled to rouse you up out of the blankets — and when you smell that coffee brewing, it just gets better.
Dude ranches have something for just about everyone — surprise yourself and try one, and you just may find a new regular vacation getaway you never knew you'd love.
Author bio: Irene Middleman Thomas is a Colorado-based writer for a variety of local, national and international publications and websites. She will never forget Joseph and the mango-stealing monkey. www.irenethomas.com