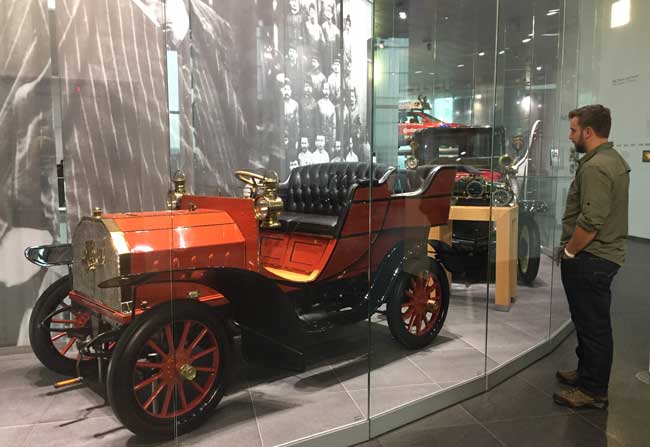 Ingolstadt: Home of Audi
We only had time for a short visit to Ingolstadt, but it was well worth the stop. While Ingolstadt is rich in culture and history, most visitors come here for Audi. The German car maker employs more than 40,000 people in this Bavarian town of 127,000 people. Each day, Audi produces 2,700 cars.
Audi offers production tours as well as tours of Audi Museum Mobile. After eating lunch at the Audi Museum Mobile restaurant, we headed into the museum galleries. Ben's eyes lit up when he saw the incredible collection of vintage cars and motorcycles on hand.
The tour told the story of Audi (how four companies came together to create one company) and followed its evolution of car design and development. English tours are offered daily at both the museum and production facilities.
Regensburg: UNESCO World Heritage Site
Although I had never been to Regensburg before, I was glad we took time to visit. Walking through the city is like time traveling to the past. Regensburg has been named a UNESCO World Heritage Site due to its incredible number of medieval buildings. Most of the city has never been damaged by war, and much of its rich medieval core has been preserved.
In the Old Town, we passed Gothic and Romanesque buildings from the 11th – 13th century. As an American, such age and rich history is hard to grasp, and standing in structures that have spanned two millennia is a moving experience.
For me, the highlight of our visit is the Romantic Christmas Market at the Thurn and Taxis Palace. It is here at the Christmas market that I feel like I've stepped into a fairytale. It is the kind of festive atmosphere that draws me to Germany at Christmas time.
Tonight, here at the Regengburg Christmas Market, I hear the laughter of friends as they gather around a fire to warm their hands. I watch two small children run through the wooden stalls, gingerbread cookies in their hands.
And me? I'm just happy to be here with Ben, celebrating the holidays in this unique destination. Christmas is a good time to be in Germany.
If You Go to Germany
Getting To/From Germany
We flew into Frankfurt and then took the train to Stuttgart, where we picked up our rental car at the train station. We flew out from Munich Airport which has a worthy Christmas market all its own, complete with an ice skating rink.
Hilton Munich Airport
If you have an early-morning flight from Munich, I'd recommend staying at the Hilton Munich Airport, which is a gorgeous property right next to Terminal 2 (and just a few minutes' walk to Terminal 1). The hotel currently has 393 rooms and is adding 162 more in early 2017. You can have a big buffet breakfast at the Hilton restaurant before leisurely walking over to your flight.
For more information on travel in Germany, see Germany.Travel
Author Bio: Janna Graber has covered travel in more than 45 countries. She is the editor of three travel anthologies, including "A Pink Suitcase: 22 Tales of Women's Travel," and is the managing editor of Go World Travel Magazine (www.goworldtravel.com).