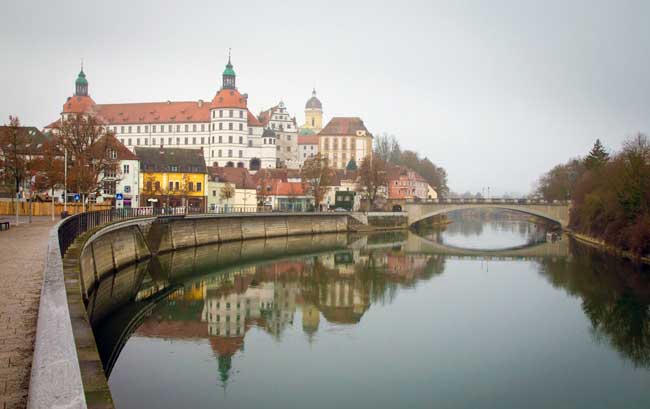 Christmas in Neuburg on the Danube

Neuburg on the Danube (Neuburg an der Donau) has a completely different feel. With only 30,000 residents, its winding cobble stone streets are narrow, with tidy homes painted in muted pastels. Our hotel, Hotel Aussicht was aptly named "beautiful view." It sits on a hill overlooking the Danube, which even shrouded in fog, was a fantastic sight.
Built in 1530-45, Neuburg Castle is the town's best-known landmark. It's also the site of the first Protestant church in the world. In 1543, Duke Ottheinrich decided to follow Martin Luther. He ordered everyone in his little kingdom to become Protestant, and he built the Neuburg Chapel.
Due to its size, Neuburg on the Danube is a more affordable place to live and do business, so the town has a wealth of independent local shops and stores. As we wandered down Schmidtstrasse and Färberstrasse, we passed many boutique clothing stores, tea shops and more. I wished I had more room in my suitcase.
One of my favorite stops in Neuburg on the Danube was the provincial library. My first thought upon seeing the incredible room filled with 15th and 16th century books was that it looked like the library in the movie, "Beauty and the Beast." Indeed, with its gilded ceiling and beautiful woodwork, it is a library fit for a king.
The library owes its beginnings to Napoleon, who came through here during his march across Europe. He had this former church building turned into a library to house many of the books his troops had taken.
I must admit, standing in the middle of the library surrounded by books written by hands so long ago was a humbling experience. (Tip: You can only visit the library with a guide. Ask at Neuburg Tourism.)
After exploring Neuburg's past, we got to experience some of the best of Neuburg today. After a dinner of typical Bavarian food at Zur Blauen Traube, we attended a concert at the Birdland Jazz Club. Housed in a converted cellar, Birdland Jazz features some of the best jazz musicians in Germany, as well as greats from around the world.
Neuburg has several Christmas markets. Perhaps the most charming is the Neuburger Christkindlmarkt.
Continued on next page