Christmas Market in Ulm
Our next stops along the Danube were the twin cities of Ulm and New Ulm. Ulm is located in the state of Baden-Württemberg, while across the river, New Ulm is in Bavaria. The two cities look quite different, since Ulm is known for its historic buildings, while New Ulm is more modern.
Ulm is famous for its stately minster, which is one of the tallest churches in the world. It's also home to one of the largest pipe organs in the world. We stopped in for a midday Christmas concert, and I was awed by the sound of Christmas music played on an organ with more than 9,000 pipes.
I've always found that the best way to learn about a new destination is through a local's eye, so we took a guided walking tour through the city. Gabriela, our knowledgeable guide, told us stories that better explained what we were seeing. We heard about the Fishermen's and Tanners' quarter, a historic area that has been beautifully restored with restaurants, shops and homes, as well as the Most Crooked Hotel in the World. (Tip: Contact Ulm Tourism to find a guided tour or to purchase the Ulm Card, which provides entrance to dozens of attractions.)
In the Ulm Minster, Gabriela pointed out a unique stained glass window. After WWII, Ulm was in the American sector, and many American soldiers were stationed there. In the 1950s, the 47th infantry regiment donated the stained glass to the city of Ulm in fellowship. The title reads, "Freedom in belief.'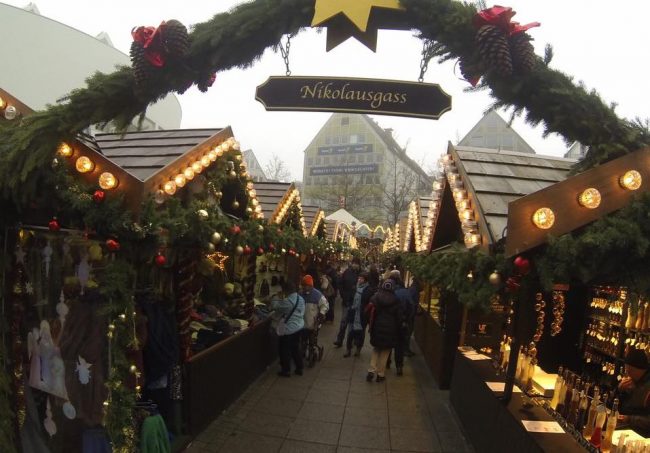 That evening, we followed the crowds to the Ulm Christmas Market, which has over 1 million visitors a season. The Ulm Christmas market is large, with row after row of narrow cobblestones lanes lined with lit stalls.
I spent more than an hour happily perusing its rows before we stopped for glühwein (hot mulled wine), first made with red wine, and then with white.
Then Ben tried his first Feuerzangenbowle. This drink is quite an experience. Rum is poured over a sugar cube that is set above a glass of mulled wine, then the sugar cube is set on fire. As the fire burns, the sugar drips slowly into the glass, creating a sweet drink that packs a powerful punch.
My favorite, though, was the Christmas market food – crepes filled with Nutella, roasted candied almonds, and würst (sausages) served with bread and sweet mustard. I was so enchanted by the Christmas market that I didn't even notice the cold.
Continued on next page