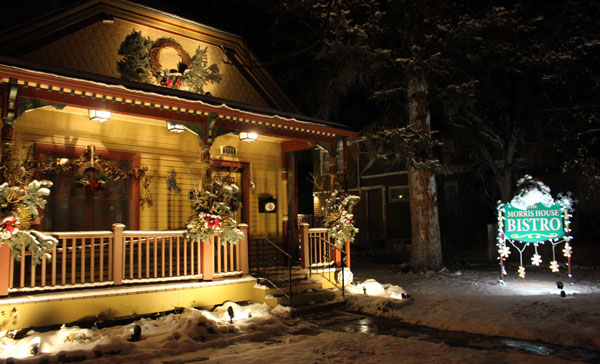 One of the leaders in the Wyoming suffrage movement was Esther Hobart Morris, who eventually became the country's first female Justice of the Peace. Morris' home in Cheyenne has been beautifully restored and is now the Morris House Bistro, one of the city's finest restaurants.
The Morris House Bistro specializes in Low Country Cuisine traditionally associated with the South Carolina Low Country. The restaurant serves pre-fixe six-course meals. On the night we visited, our dinner included scrumptious dishes like Baked Stiles Point Oysters, Anjou Pear and Gorgonzola Soup, Grilled Atlantic Sea Scallops with Cranberry Risotto, Persimmon & Rosemary Sorbet, Deconstructed Beef Wellington with Kobe Wagyu Beef and Eggnog Custard Cream Puffs.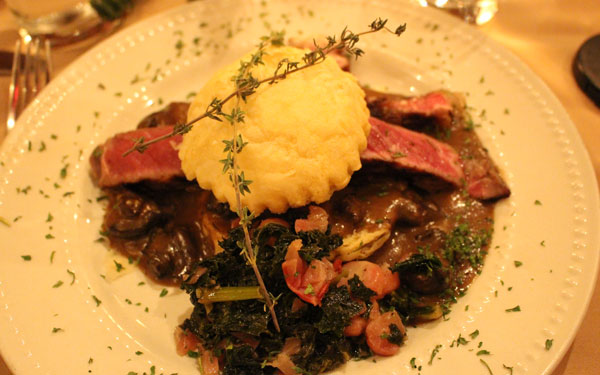 All dishes are created by Master Chef and proprietor Dameione Cameron, whose talent and passion for fine cuisine is obvious. You'll often find him mingling with the guests, and he is one of the highlights of any visit.
Cheyenne has numerous events during the holiday season. One evening, we watched a night holiday parade, which seemed to include half the town. Everyone got into the holiday spirit.
For us, Christmas in Cheyenne was peaceful, charming and filled with delightful people and experiences. It made for a memorable girls' getaway — which is exactly what we had been hoping for.
If You Go
Visit Cheyenne
www.cheyenne.org
Nagle Warren Mansion Bed & Breakfast
naglewarrenmansion.com
222 E. 17th Street, Cheyenne, WY 82001
800-811-2610
Morris House Bistro
2114 Warren Ave Cheyenne, WY 82001
morrishousebistro.com
307-369-1378
Historic Governor's Mansion
300 E 21st Street, Cheyenne, WY 82001
http://wyoparks.state.wy.us/Site/SiteInfo.aspx?siteID=23