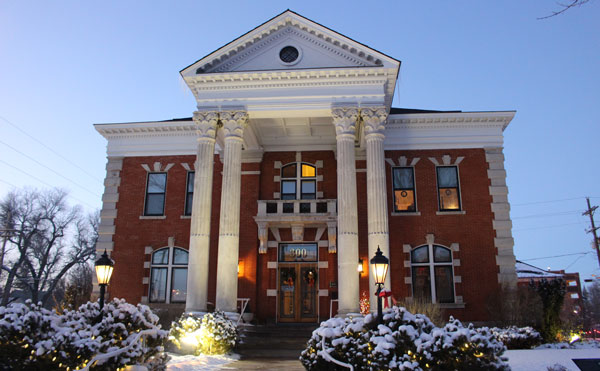 From there we decided to do some exploring. Cheyenne is home to several unique Western clothing and home décor shops. Two of our favorites are The Wrangler and Wyoming Home, which are located just a few blocks from the Nagle Warren Mansion. We spent some time at both shops. I came home with several handmade western Christmas ornaments, which will be fun reminders of our girls' getaway.
After we had our fill of shopping, we headed over to the stately Historic Wyoming Governor's Mansion. No longer used as the Wyoming governor's residence, the grand building is now used for events and special exhibits. Each year, the Historic Mansion features a holiday exhibit. This year, it was "Tinsel Through Time: A Family Holiday."
Each room was decorated in a different time period, from Christmas trees with candles from the 1880s to the glitzy pinks of the 1960s. As an added bonus, our visit gave me the chance to learn more about the people who helped to make Wyoming into the state it is today.
In 1869, the Wyoming Territory was the first to give women the right to vote. In 1890, Congress threatened to withhold statehood from Wyoming because of woman suffrage. Wyoming struck back by threatening to remain a territory rather than give up women's votes. Congress eventually backed down.
Continued on next page