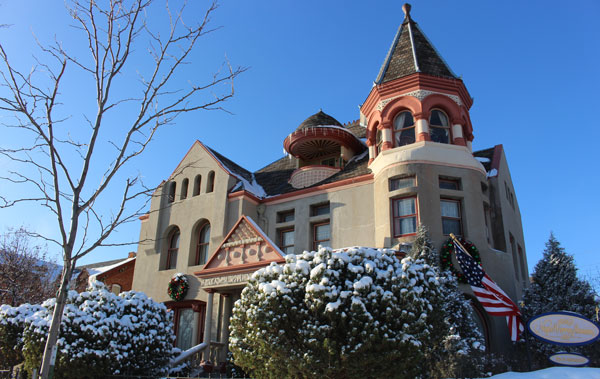 One of those grand Victorian homes is now the Nagle Warren Mansion Bed & Breakfast, and we decided to make it our home for the weekend. Many travelers reach Cheyenne via Denver International Airport, just 1.5 hours to the south. Happily, we live in Denver, so it was just a short drive for us.
Built in 1888 by Erasmus Nagle, the Nagle Warren Mansion and Carriage House has been lovingly restored in intricate detail. Features include an original Moroccan chandelier in the entry hall, carved leather ceilings, original stained glass and crystal windows, cherry paneling in the foyer, parquet floors throughout the first floor, and two cast brass fireplaces with mirrors to the ceilings.
The mansion has 12 guest rooms. Each room is unique and individually decorated with period antiques. The rooms include many modern appointments, yet retain their old-world charm. Our rooms had luxury bedding, gas fireplaces, plush robes, wireless internet and more.
But perhaps the best part of any visit to Nagle Warren Mansion is the innkeeper himself. Jim Osterfoss purchased the home in 1997. He had run hotels in Colorado and Utah before retiring, but quickly found that retirement didn't suit him. So he turned his sights on creating a unique B&B where he could be more "hands on." The result is an establishment that is part of the very core of Cheyenne.
His hotel management skills mean that the Nagle Warren is run like a top hotel,but with a very personal touch. Jim can often be seen talking with guests, many of whom come back year after year.
Continued on next page