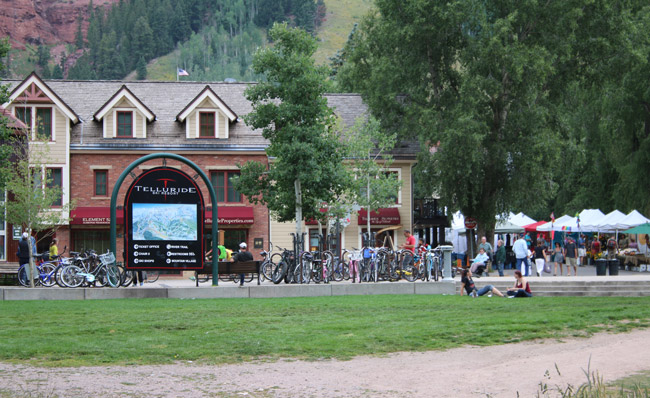 Telluride Campgrounds
The town of Telluride provides a unique camping experience.  This beautiful mountain town in the southwestern part of the state is surrounded by the peaks of the San Juan Mountains. Visually stunning with its gold rush era-buildings, Telluride is best known as a ski resort with a reputation as a playground for the rich and famous. What few people know is that the town has a fantastic campground next to the amphitheater with only 28 drive-up sites and a walk-in tent area with 18 spots.
Run by the town's Parks and Recreation office, Telluride Campgrounds are popular because Telluride is known for its music and art festivals almost every weekend. Normally, all of the campsites are accessed on a first-come, first served basis, EXCEPT during festivals where camping passes can be purchased with festival tickets. For the casual weekend camper, getting a spot here is difficult. Unless you are attending a festival and purchase passes, the best way to snag a spot is to arrive mid-week before a non-festival weekend.
For those who get in, Telluride Campgrounds are charming. The San Miguel River runs behind the park with hiking to a nearby waterfall. There is also a walking/biking path that follows the river through town. The town's trolley has a station at the park's entrance for those covering longer distances. It's a unique experience to be able to camp in the forested wilderness and then walk into town for dinner at a fine restaurant. Don't worry about looking ragged either because the campgrounds have shower facilities where guests can get spiffed up. One thing is lacking, however. Because of its proximity to town, no open fires. You'll have to roast those marshmallows over a propane grill.
What to Keep in Mind
It's always best to reserve your camping spot in advance. Not only does that guarantee a spot, but it allows campers to reserve the best spots. Want lakefront or mountainside? Near other campers or as far away as possible? Campsite maps will help. Online reservations do incur an extra fee, usually $10, but worth it.
Colorado weather is famous for having all four season in one day. Remember whenever outdoors, the weather can change instantly and campers, no matter whether using a tent or in a cushy RV, should be prepared. Especially at altitude, where temperatures can be warm during the day, but precariously cold at night. Items that should always be packed, even in summer, are a pair of wool socks and a hat or knit cap. Happy camping!
If You Go Camping in Colorado
Eleven Mile:  http://cpw.state.co.us/placestogo/Parks/ElevenMile
Green Ridge:  http://www.recreation.gov/camping/green-ridge/r/campgroundDetails.do?contractCode=NRSO&parkId=70037
Lathrop:  http://cpw.state.co.us/placestogo/parks/Lathrop/Pages/default.aspx
Telluride:  http://www.telluride-co.gov/181/Campground
Author Bio: Carrie Dow is a freelance travel writer whose work has appeared in Islands, International Living and Interval World. She is currently the Local Editor of DrinkDenver, part of The Drink Nation. She is also the Founder of What's Pawsitive where she writes about animal-based travel and animal welfare issues around the world. An occasional football widow, she is mom to a Siberian husky and a Siamese cat.