Green Ridge Campgrounds at Shadow Mountain Lake
The Grand Lake area in northern Colorado is popular for camping, especially since Rocky Mountain National Park is next door. A better option, though, is to seek out some of the other lakes nearby. Next to Grand Lake, Shadow Mountain Lake is available for motorized and non-motorized water activity. Part of the Arapahoe National Recreation Area, Shadow Mountain Lake has several small islands covered with trees that are home to the majestic osprey. During the fall, birds nest in the tallest trees and soar overhead searching the water for fish.
Green Ridge Campgrounds, located on the south side of Shadow Mountain Lake is worth seeking out. The campground sits behind the earthen dam so the lake is out of view, but a short walk puts you right on the water. The lake's dam is where the Colorado River turns westward. Glimpse the occasional moose wondering through the surrounding forest and enjoy colorful sunsets by the campfire.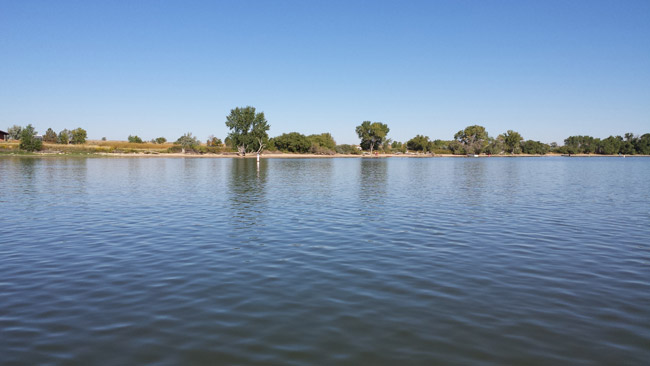 Jackson Lake State Park
Jackson Lake State Park on Colorado's eastern plains has a pleasant surprise for landlocked Colorado – the state's largest sand beach. Talcum powder soft sand lines the length of the western shore and a designated swim area is in the middle. The 2,411 acre park has 260 camp sites and the sites closest to the water have beach access on short paths. The shallow wakeless zone that follows the length of the beach makes it safe for kids to play. With access to waterfowl hunting in the fall, camping is allowed in three of the six campgrounds year around.
Continued on next page