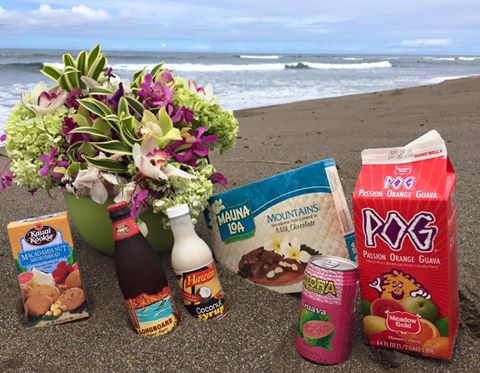 Learn about Hawaiian culture and Kauai's sugar-era history on the Grove Farm Homestead guided tour (US$ 5) on Mondays, Wednesdays and Thursdays at 10 a.m. and 1 pm.
For those who prefer to shop, or at least look, there are a number of craft fairs around the island and many colorful festivals at various times of year that often charge little or no admission. Check out Kauai Festivals and Events page for regularly updated information.
And when you get hungry, visit Kauai's sunshine markets (farmer's markets) held Mondays through Saturdays in various towns around the island for the best in local fruit and vegetables, as well as a good dose of aloha spirit.
Kauai also has many roadside fruit stands (just leave your money in the bucket and take what you pay for) as well as locally caught fish and shrimp sold on the roadside by fishermen. If you don't want to or cannot prepare your own food, there are plenty of good, filling restaurants on Kauai where a tasty meal costs less than US$ 12.
Local favorites include the Tip Top Café (famous for oxtail soup and macadamia-nut pancakes), Sushi Katsu (inside the Tip Top) and Hamura Saimin (Chinese-style ramen and delicious lilikoi, or passion fruit pie). The Garden Island Barbeque in Lihue has big, cheap Chinese lunches and dinners; Pho Kauai has reasonable Vietnamese dishes; and Wrangler's Steak House, in Waimea, offers tasty local foods.
For a cheap, filling breakfast, try Portuguese donuts, called malassadas, with Kauai-grown coffee and a papaya. Inexpensive bento (Japanese-style lunches) can be found around the island; favorites include Mark's Place in Puhi, Fish Express in Lihu'e and the Koloa Fish Market. Another cheap eat is the ever-popular and uniquely Hawaiian musubi (a piece of grilled Spam saddled to a dense rice cake, wrapped in nori seaweed). And for dinner? How about some ahi poke (tuna sashimi with sesame chili oil) from Ishihara Market in Waimea with a cold drink at the beach?
If You Go
Kauai at a Glance
Known as a lush, green island with abundant rainfall and unspoiled nature, Kaua'i is the oldest (5.1 million years) and fourth-largest of the main eight islands in terms of size (553 square miles; 1,432 km²) and population (approx. 60,000).
Highlights
Hiking the Na Pali Coast, seeing dozens of waterfalls on the face of Mt. Wai'ale'ale by helicopter, playing on Kaua'i's dozens of long sandy beaches, walking the cliffs to Maha'ulepu, watching spinner dolphins in the morning, sunset at Polihale Beach, the brilliant tropical flora and the laid-back pace.
Watch Out For
Traffic between towns of Puhi and Kapa'a during morning/afternoon rush hour, strong ocean currents, dangerous shore breaks, flash floods and centipedes.
Further Information
Kauai Visitors Bureau
www.kauaidiscovery.com
Love travel? So do we! Check out some of our other travel articles on destinations around the world at www.goworldtravel.com