Before you strike Kauai from your list of potential destinations, however, consider this: Kauai's greatest attraction, the natural beauty found on long stretches of sand beaches, the breathtaking mountains, valleys, forests, dunes, cliffs and high-altitude swamps, and all that tropical flora (Kauai is, after all, known as the Garden Island), are free. Likewise, Kauai's cool trade winds, warm sunny days and frequent rainbows won't cost you a thing.
Typically, more expensive accommodation is found on Kauai's south side (the Po'ipu area) and on the north shore in Princeville and Hanalei, but if you search online, you may find exceptions. In addition to large corporate hotels and luxury vacation rentals, Kauai is blessed with countless wonderful and reasonably priced B&Bs that offer lodging for as little as US$ 75 a night for two.
The following east-side favorites are examples of inexpensive but comfortable lodging: K.K. Bed and Bath and Hibiscus Hollow (all in Kapaa). There are a few cheap hotels in the county seat of Lihue, such as the Motel Lani and the Tip Top Motel for those who just need a place to lay their heads.
In Kapaa, the Honu'ea International Hostel Kauai, in the center of the island, has dorms for US$ 31 and private rooms for US$ 66.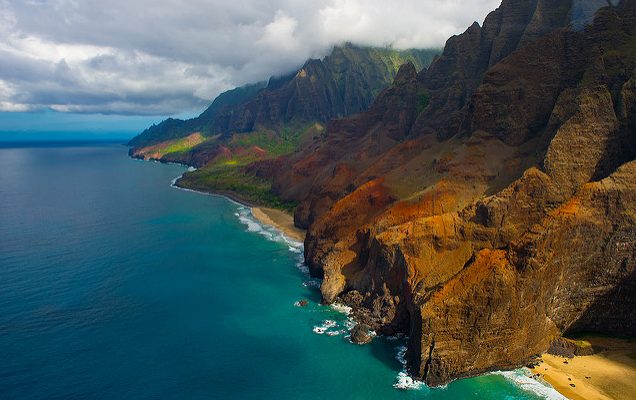 If you enjoy cool mountain air and hiking, consider camping at Camp Slogget in the highlands of Kokee State Park for as little as US$ 15 a night. For those with their own gear, camping is possible (by permit only) in half-a-dozen state park locations and at seven Kauai County beach parks.
Now that you have a reasonably priced room on Kauai, how are you going to get around? The only public transportation on Kauai is the bus, which is certainly cheap (US$ 2), but it runs sporadically and you may have to wait more than three hours for a ride. Kauai's buses are equipped with bicycle racks on the front if you are using your bike, but you may find that most of Kauai's narrow, two-lane highway is less than ideal for cycling.
An 18-mile-long (29 km) cycling path on the east side, from Lihue north, is currently under construction. Hitchhikers are still seen on the Kauai's roadsides and, if you are comfortable with this mode of transport, you will likely catch a ride before long. While Kauai is generally a very safe place, hitchhiking has the same inherent risks here as anywhere else in the world.
The best way to get around for most people is by rental car. The usual companies are located at the airport and they charge the usual prices — not a bargain, nor is gas cheap on Kauai.
Continued on next page