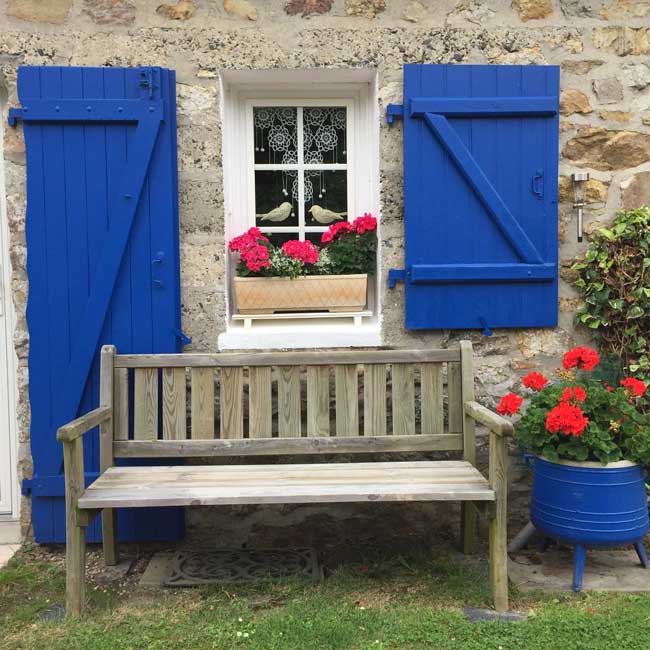 Small Towns of Character
Of course, one of the best reasons to visit Brittany is to enjoy its many flower-covered, stone villages and small towns. France has been in the preservation business for hundreds of years.  There are national designations such as "Plus beaux villages de France" (the most beautiful villages of France) and "Small Towns of Character."
These highly contested and only awarded to towns that have retained a coherent architecture and a sense of place, where the residents have worked together for decades (and sometimes centuries!) to avoid power lines, modern buildings and garish advertising.
They have strict building codes that must be followed. It's a rare shutter or door anywhere in Brittany that is not painted marine-blue. Most of these villages and towns are pedestrian only and filled with the most lavish of gardens. Of course, they are often crowded. But come early morning and twilight, and you can have them to yourself.
English speaking tourist offices in town and city centers can help you find these villages and provide excellent free maps, but we found Google Maps to work just as well. Part of the fun is discovering them on your own, but here are some we toured that are worth a journey:
Locronan
This is the most famous village, and with good reason. It's stunning. You park on the edges and walk into the village square lined with stone buildings from the 15th century. This was the center of the sailcloth industry for 300 years. Since the 19th century, it's architectural beauty has been recognized and preserved.
Rochefort-en-Terre
Famous for its geraniums, this 16th-century feudal town stands on a rocky, fortified spur with steep alleyways leading from the lower town up to the former citadel. The view, looking down on the slate roofs of the village, where whiffs of blue smoke curl from the chimneys, is like walking into another world.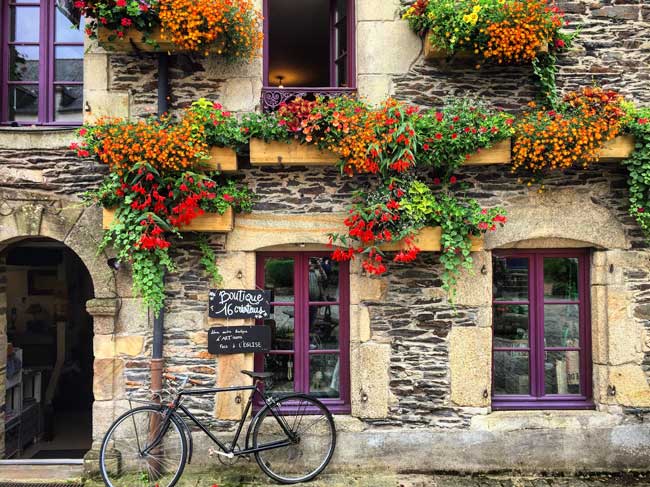 Pont-Aven
This quayside village has always attracted artists, including Paul Gauguin, who lived here and did 14 paintings of village scenes.
Camaret-sur-Mer
Few Americans make it to this extreme far west corner of the Crozon peninsula, but one who did visit this ship building town in the early 1800s, was American inventor Robert Fulton. This was where he tested the first underwater propellers. Fulton would later become world famous for inventing the first steamboat and sailing it up the Hudson River in New York, where he steamed past the little village of Hastings-on-Hudson, where my brother and I grew up.
What a strange coincidence to run into Fulton here in outer-France, surrounded by the Atlantic Ocean with a wild coastline, a Vauban fortress tower and a harbor filled with picturesque wrecks of wooden boats. The town feels like the end of the world. And that's a good thing.
Author Bio: Rich Grant is a freelance travel writer in Denver, Colorado and a member of the Society of American Travel Writers and the North American Travel Journalists Association. He is, along with Irene Rawlings, co-author of "100 Things to Do in Denver Before You Die," published by Reedy Press in 2016.