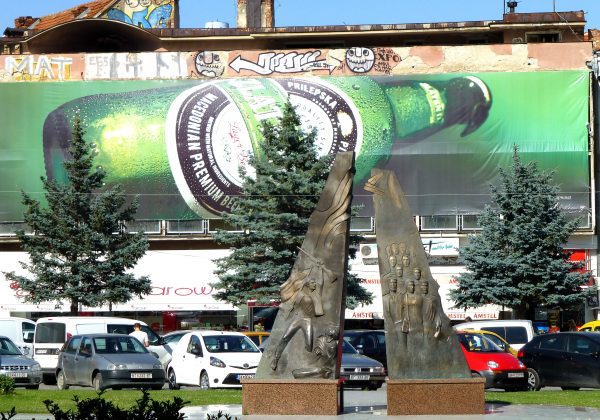 We walked through the mountains with paths hardly recognizable as such, leading past steep and deep slopes. We dragged ourselves all the way to the top where the view would be magnificent, if it weren't for the fog.
The Roman remains of Heraclea Lyncestis with pillars and mosaics are a nice appetizer, but the city is the main dish. On one of the squares hangs a giant Heineken banner behind fighting soldiers on the freedom monument. The market offers no sunglasses, but long, flowered skirts. When you buy some berries, they are put on a metal scale with lead weights.
Green peppers and dried fish were on display next to a trash pile where the local cats were having a party. We had our dinner of sausages and fries on a terrace; a part of the street that is covered with fake grass mats, on wooden chairs brought out for the warm weather. The waiter was afraid to talk to us, so he found another customer who spoke some English to take our order. This is Bitola.
It is not Budapest or Berlin. It has no special towers to climb or pyramids to take selfies with, but it has a heart, beating in the right place. For there is no beauty without ugliness and Bitola has the right combination.
Even our hotel room turned out not to be perfect. The bathroom had a wellness cabin: not just a bath, but different shower-heads for a water massage, a bubble maker, built-in radio and romantic lighting. It didn't look like former communist Macedonia, but it was: of all the faucets and shower-heads in the cabin, only one worked. There were no bubbles, no sound coming from the radio and only one light went on. The cabin itself leaked on all sides, turning the bathroom into a private swimming pool.
It was perfect.
If You Travel to Bitola, Macedonia:
Cheap flights to Ohrid or Skopje from European destinations through WizzAir: https://wizzair.com/en-GB/FlightSearch
Bitola Tourist Information: http://bitolatourist.info/ (English)
Macedonia uses the Cyrillic alphabet. It might be useful to bring a copy of a translated alphabet.
Author Bio: Anika is a professional freelance travel writer and photographer based in Utrecht, The Netherlands. She has lived in 6 different countries, speaks several languages and has traveled independently in more than 50 countries, with a special interest in Eastern-Europe. She has published a travel guide about her home town Utrecht and a book with stories of food and drinks around the world, both available at Amazon worldwide.