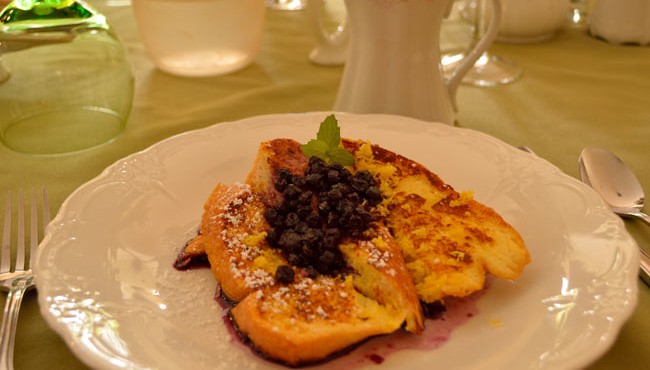 The setting couldn't be better. Set high up above Camden's charming downtown area with its scenic harbor, the ten-room Hawthorn House is listed in the National Register of Historical Places in the High Street Historic District, bedecked by flowers in its large garden. Waking up to Blueberry Lemon French Toast and a kiwi-strawberry fruit plate with lime cream gave me the motivation to get back "in the saddle" once more.
After a lovely ride around the lovingly maintained older homes of  Camden, we biked on to Lincolnville, where we partook of a cup of chowder and a heaping ice cream cone at Mclaughlin's Lobster Shack, right on Route 1 at Lincolnville Beach. We dipped our feet into the chilly water and watched families relaxing on the sand. From there, we opted to change our route so that we could visit Cellardoor Winery, about a 45 minute bike ride from the beach (as well as  to avoid more travel on busy Route 1.) On the winding country road we cycled on, we spotted two wild turkeys and two raccoons scooting off in front of us.  Cellardoor is set in an exquisite location – reminiscent of the green hills of Tuscany. Visitors are offered four samples of a wide range of excellent varietals at no charge, as well as vineyard and winery tours.
On to Belfast and Bar Harbor, Maine
We spent that night in Belfast, on the shore of Penobscot Bay, with many windjammer cruises, ferryboat rides to islands, a maritime museum, and four state parks nearby. Settled in 1770, Belfast has some unique shops and galleries worth visiting, beautiful historic churches and homes and two lively brewpubs – Three Tides and Marshall Wharf, as well as many other eateries. We especially enjoyed a shop called, "Yo Mamma's Home" on Main Street, full of an exceptional array of quirky, fun, don't-need- but-must-have items.
The grand finale of our adventure, 55 miles from Belfast, was said to be Bar Harbor and Acadia National Park – and we weren't disappointed. Bar Harbor is the largest town on the oddly shaped (something like a lobster claw) island of Mount Desert. With a past including lots of old money (think Rockefellers, Vanderbilts, Astors, etc., some of whom still vacation here,) Bar Harbor is gorgeous, quaint, charming – all of those superlatives fit.
We were happy to spend two nights here, and even chose to spend a third on our own. The Bar Harbor Motel, while not right in town, is on the extensive free bus shuttle route (bicycles can load) and just 10 minutes from the Village Green in the center of everything, including the transfer bus into the magnificent Acadia National Park. Best of all, the motel has a little 30-minute walk (and/or bike) trail which leads into the park.
Acadia National Park is on the rocky island of Mount Desert, full of soaring red granite cliffs, spectacular sandy and cobblestone beaches, glacier-carved mountains, deep lakes in valleys, incredibly lush meadowlands, marshes and dense woods. It is considered by many to be the most beautiful of all the U.S. National Parks. With over 49,000 acres, Acadia opened in 1916, as the first eastern national park and the first with land donated entirely by private citizens (the afore-mentioned magnates.)
Acadia holds special joy for bicyclists – its beloved 45 miles of carriage roads were commissioned by John D. Rockefeller, who loathed the idea of automobiles on his lands. Today, the once-private carriage roads are open all, and bikers and pedestrians alike delight in the wide roads that wind throughout the park, as well as in the 17 beautifully built stone bridges which traverse waterways along the way.
We spent two days cycling through Acadia, visiting such renowned spots as Thunder Hole, Sandy Beach (absolutely one of the prettiest natural sights I've ever seen,) Cadillac Mountain (NOTE: large throngs make the trip to the top each sunrise to see the sun's first light on the east coast,) Jordan Pond, Otter Cliffs, and The Beehive, a 520-foot mountain with a honeycombed face carved by glaciers.
Acadia also boasts Bass Harbor Head Light, one of the most photographed lighthouses on the East Coast. Our first day in Acadia was very foggy and cool, and while we were disappointed with that, we soon realized that the views were stunning – peaks and cliffs rising from the mist, everything dappled with dew, and far less human beings to contend with. Instead of several hundred folks at the top of Cadillac Mountain, we only saw about 15.
Bar Harbor itself is well worth the time to stroll around. It's a friendly, pretty village, very popular with tourists but not overrun with them. We spent our last night enjoying a free classical music concert in Village Green Park, licking our big, exotically-flavored ice creams from the extraordinary Mount Desert ice creamery (Mainers seem to serve VERY large ice cream cones everywhere.) Children ran in circles around the gazebo, dogs lay down by their owners, and it felt like a scene from an old movie – like maybe Bedford Falls?
It was time to return the bicycles, and to head home. Yet, I had a hankering for something – another lobster roll, but I feared there was no time. Just before the flight, I spied a Shipyard Brewing outlet in the Portland Jetway – and a sign for lobster rolls. "Just" $18, but here, that included a side dish. I couldn't resist, and ordered one with cole slaw on the side, and a cold brew. It was sublime, I must say. What a perfect way to end a trip to Maine.
If You Travel to Maine:
Beers and Bike Tours: www.beerandbiketours.com, 970-201-1085.
Bicycle Coalition of Maine: http://www.bikemaine.org/, http://www.bikemaine.org/biking-resources/where-to-ride (provides a wealth of information and free bicycle maps throughout Maine)
Maine has been ranked as high as number two in the nation for bike friendliness by the League of American Bicyclists.