Damariscotta, Maine
Crossing the bridge, we cycled on through Biscay and spent a while tossing tennis balls to a black lab named Remy into the surprisingly warm water of Biscay Pond, where many people were lazily playing and floating. On to the town of Damariscotta, home of the sublime, legendary Round Top Ice Cream Stand, situated next to the dairy on Main Street. We LOVED this very unpretentious, old timey place – dishing up, in my memory, the best, creamiest, richest, most flavorful ice cream I've ever had, and what could top that after a bike ride on a hot day? Enormous portions made it even better – just over $2 for two scoops of blueberry and vanilla custard on a sugar cone, dripping delectably down my sweaty cheeks. This is a must visit!
One of the highlights of the week was spent that evening in a special B&B – SpinnAcres, which doubles as an alpaca farm retreat, in Waldoboro. This exceedingly well-kept and furnished waterfront inn, owned by a very outgoing husband and wife, offers four rooms, all with beautiful views of the ocean inlet and the meadows in front of it. Our evening was enhanced by a glorious "supermoon," as well as by infinite numbers of fireflies flickering in the long grasses outside our room.
In the late afternoon, we walked down the path to the waterfront and heard a strange sound, then observed an older man singing to himself as he dug for clams.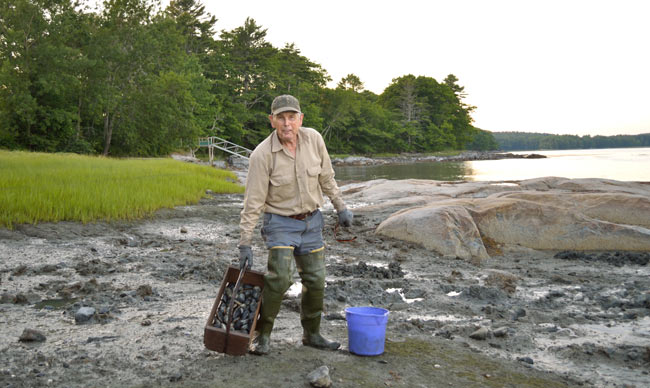 "Hullo theah," he called to us. He was Ernest, an 82-year-old local clam digger who has been doing this work for "oh, 'bout sixty yeahs now." Ernest told us how his work is hard, and that he digs daily and sells his clams in the area. Later, we went to visit SpinnAcres' alpacas, one of the highlights of the trip. Wyatt, a black and white handsome young lad, considered the "alpha" of the seven alpacas, seemed to take a liking to me and let me hug him and stroke his neck – much to my delight.
This area of Maine is dotted with many old, historic cemeteries, attesting to its many years of inhabitation. I found them fascinating and somehow restful to explore, with many old plaques and U.S. flags marking Civil War veterans, dozens of graves of sea captains (one saying the man died in Bermuda,) ancient tombstones, neglected for countless years, and an appalling amount of graves of babies and young mothers. There were names that one never sees anymore, such as Jerusha, Enoch and Silais. Some tombstones were illegible; they were so covered in lichen.
Thomaston, Maine
I was gaping in wonder at the New England magazine-quality homes in the beautiful town of Thomaston, when I noticed a sign for the Maine State Prison Showroom. Intrigued, we turned back and visited the incredible wood working showroom of the Maine State Prison system. This is a fantastic, feel-good shop – well worth a long break, with exquisite artisan wooden furniture, bowls, toys, utensils, lamps and more made by prison inmates who have learned their skills while incarcerated.
Prices are VERY reasonable – the only problem is how to carry purchases home, since they cannot ship across state lines. They do recommend a shipping store in town which can package and send items to other states. While I chatted with a prison warden who was manning the cash register, asking him a battery of questions, he nodded almost imperceptibly across to where some men were sitting on wooden rocking chairs.
"Some of our minimum security inmates work here in the store as well," he said quietly, with a hint of a smile. While you are deciding on purchases, take in a meal at the Highlander Coffee Shop – yummy high-quality sandwiches, baked goods and artisanal coffees.
Later that day, we explored the history-filled towns of Rockland and Rockport, cycling past heritage Belted Galloway cows in the meadow, along fern and flower-lined hilly country roads. The Rockland Brewery gave us a good break, with a cold Seadog beer, and a couple of hours later, we reached Camden, and our new B&B, the Victorian mansion of Hawthorn House.
Continued on next page