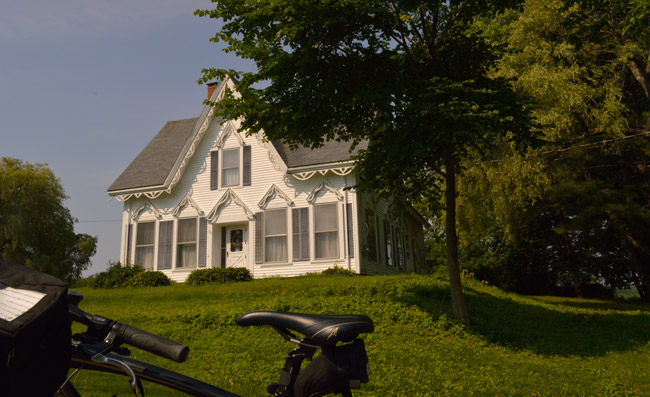 We continued on to country roads lined with wild pink roses, Queen's Anne Lace, tiger lilies, raspberry and blueberry bushes, with lush meadows and green hills beyond. The beautifully kept 100 to 300-year-old New England homes we passed in the villages had me fantasizing of owning them – each one more than the last. I saw mostly white Cape Cods, Victorians and Colonials, many were adorned with festive bunting and American flags from last week's Fourth of July. I'm not much of a flag waver, but on these homes, they looked just right. We continued biking through the upscale village of Falmouth, Yarmouth (famous for its three-day July Clam Festival,) and Freeport (home to the mega-outdoor outfitter, L.L. Bean's Flagship store – open 365 days a year, 24 hours a day).
We also visited the quaint village of Bath, with its wealth of gorgeous historic homes and a magnificent city hall in its downtown. Bath's Saturday farmers' market gave us a pleasant break from biking – and we enjoyed the live bluegrass music and many tidbits to eat from the various booths set in the waterfront park.
In Yarmouth, we couldn't resist a stop at too-cute red and white Day's Crabmeat and Lobster, which claims to have the "best" lobster rolls, but frankly, so does every other seafood shack. These roadside seafood eateries also offer various forms of clams, shrimp, haddock, crab and non seafood items as well. They're informal, messy, fun and delicious.
Arriving hungry and salivating, we spent a few peaceful moments gazing at the water view from Day's beautiful back patio. Day's is one of countless lobster pounds across Maine, where customers buy live lobsters by weight, or order them cooked. Lobster rolls, sold just about everywhere (even McDonalds in Maine carried them a few years ago,) typically consist of six-inch hot dog buns, split open and heaped with 3 or 4 ounces of lobster meat, served with melted butter or mayonnaise. Prices fluctuate on lobster and clams daily, but we saw rolls ranging from $7.99 to $25.00.
Continued on next page