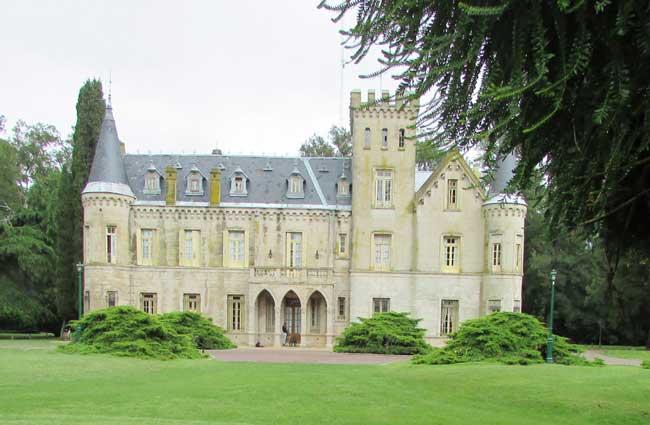 Estancia La Candelaria
Estancia La Candelaria  too is only about 70 miles from BA in the town of Lobos. One of the big attractions is the asado criolla (creole barbecue) cooked on an outdoor parrilla (grill).
For food lovers, there is nothing quite like this outdoor barbecue. Visitors, if they choose, can watch as lavish amounts of meats (chicken, sausage, beef, lamb, goat, and animal entrails such as cow chitterlings, mollejas [sweetbread], and other organs) are grilled to perfection and often served with provoleta cheese.
Offered along with the meat are bread, a mixed salad, and or verdurajo (grilled vegetables), such as a mix of potatoes, corn, onion, and eggplant cooked on the grill and seasoned with olive oil and salt. Dessert is usually fresh fruit. Of course, the main drink is one of the fine wines of Argentina.
Diners will find the meal to be an enormous orgy of food made especially enjoyable by the folk dancing and music. For entertainment, the gauchos will perform robustly, snapping their whips, pounding the wooden stage with their boots, in time to music, while the women will click their heels and swirl around flirtatiously, their skirts lifting and expanding, while their hands dance in the air. It is all done with joy and even seduction Latin American style.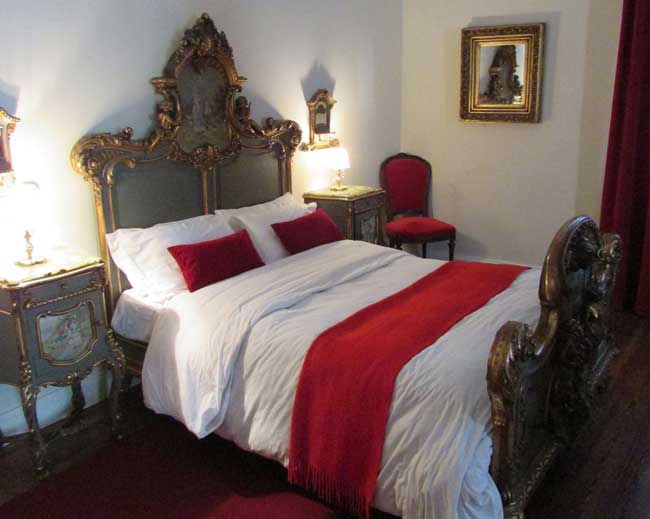 The main property at La Candelaria, where guests can overnight, is a reproduction of a Loire Valley Chateau. This tastefully recreated castle, designed and built by architect Alberto Febre, not unlike one you might find in France, sits prominently on several hundred acres of well-manicured land.
Within the chateau in keeping with its strong French design are handsome antiques from France and a noteworthy stained-glass window that greets visitors at the main staircase.
The twelve guest rooms upstairs are bright and sunny, and the ambiance is low key and country. In addition to the space in the castle, La Candelaria offers eight suites in the colonial houses (with sitting rooms and wood-burning fireplaces), two suites in bungalows with fireplaces. One apartment in a Dutch mill with living room, kitchen and double bath. And two suites with a sitting room with spacious fireplaces.
Horseback riding, swimming, volley ball, tennis, carriage rides, polo, biking, golfing (nearby), and more are available for those who want to stay and enjoy the beautiful countryside.
Cost: Rates range from US $ 113 per person to US $ 155 per person. Weekend rates range from US$ 210 to US$ 280. This includes a reception with empanadas, lunch, afternoon tea, dinner and breakfast the following morning. Wines and spirits are extra. All the activities are included, except polo clinics, lessons, or tournaments.
Reservations
Estancia La Candelaria
Ruta 205 KM 114.5, Lobos
Provincia de Buenos Aires, Argentina
Voice: 54 2227 494132 or 494473
info@estanciacandelaria.com or reservas@estanciacandelaria.com
www.estanciacandelaria.com
Contact the ranches for day visit charges, and transportation to and from the airport or Buenos Aires for overnight guests.
____
Author Bio: Joe David is the author of six books, including Gourmet Getaways (Globe Pequot Press), and many magazines articles for various magazines. For more information, www.bfat.com