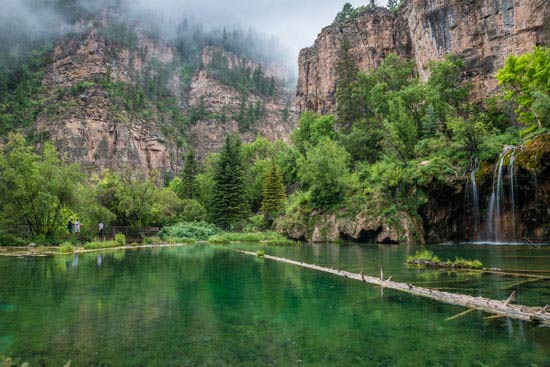 Glenwood Springs, Colorado
Glenwood Springs is one of the most popular weekend getaway destinations for Coloradans. They come to soak in the hot springs and hike to Hanging Lake. The summer heat draws sightseers to Glenwood Caverns Adventure Park, a one-of-a-kind gem and mineral spectacular that puts you up close and personal with some of the most beautiful crystal and rock formations in Colorado. Originally founded on cave tours, Glenwood Caverns Adventure Park has become a mecca for thrill seekers, who come to sample the Alpine Coaster, Cliffhanger Roller Coaster, Soaring Eagle Zip Ride and the fearsome Giant Canyon Swing.
Glenwood Springs also offers excellent hiking, horseback riding, kayaking and even paragliding. If you're up for a hike, Hanging Lake is a must-see in this Colorado mountain town. With turquoise water under a majestic waterfall, Hanging Lake draws hikers of all ages, from families to adventure seekers.
If you'd like to stay in a part of history, book a room at the Hotel Colorado and get in touch with the famous fellows who once filled the halls before you. Once you've done all of the exploring you can handle, head to the town's main attraction – the Glenwood Hot Springs Pool. With not one, but two large outdoor pools, one for swimming, another for relaxation, this is the perfect place to unwind after a long day of exploring.
During the summer, kids love playing on the pool's two huge water slides. Adults can slip away to the Yampah Spa and Vapor Caves to get the natural geothermal steam bath relief they so badly crave.
If You Visit Colorado in Summer
For general travel information on Colorado and its many amazing mountain towns, visit Colorado.com.
For more information on each town, visit their tourism sites below.
Crested Butte: http://www.visitcrestedbutte.com/
Steamboat: http://www.steamboat.com/
Ouray: http://www.ouraycolorado.com/
Telluride: http://www.visittelluride.com/
Glenwood Springs: http://www.visitglenwood.com/
Author Bio: Colorado native Janna Graber has been exploring and writing about Colorado most of her life. She is the editor of Go World Travel Magazine, and has covered travel in more than 42 countries. See more of her work at jannagraber.com