"Yes, I know," the Israeli continued, "I have the receipts at my hotel so it would be better for me if you could give me the ticket and I will come back with receipts."
"I'm sorry, no, you must have the receipts!"
I would have given up by now, but our hero, unphased, continued on in a clear, even voice.
"But it would be better for me if you give me the ticket so I know…"
"No, impossible!"
The other foreigners, enjoying the spectacle, silently led the cheer. Back and forth the Israeli-Indian verbal cockfight went until, suddenly grinning, the ticket agent gave up by printing the ticket.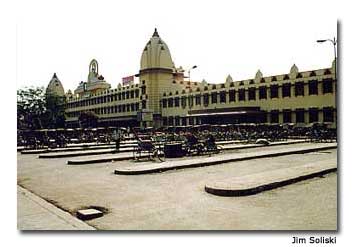 Then almost daring the Israeli to snatch the dangling voucher from his hand, the man said, in no uncertain terms, "I will give you the ticket, BUT you must come back this evening or I will CANCEL the ticket!"
The Israeli's head nodded once on a slant, his eyes closing in synchromesh with grace.
"No problem, I will come back." Calmly, he took his time folding and stowing away the papers while all eyes watched his every move. The ticket agent looked both at a loss and impressed.
Now it was my turn.
"I would like a ticket for Agra." The Taj Mahal is in Agra.
"Fine, the next spot available is four days from now."
"Oh," I said, trying to muster courage from the previous guy's example, "How about a ticket to Darjeeling?" I had heard that Darjeeling in the lower Himalaya mountains was a go-to-place.
I heard him spit out something along the lines of: "to Darjeeling you take a train three days from now (to some place I didn't understand) then transfer to (another place I didn't get) and then take a bus to (another place I didn't understand). From there, take a taxi."
"Huh?" I responded intelligently and astutely.
Continued on next page