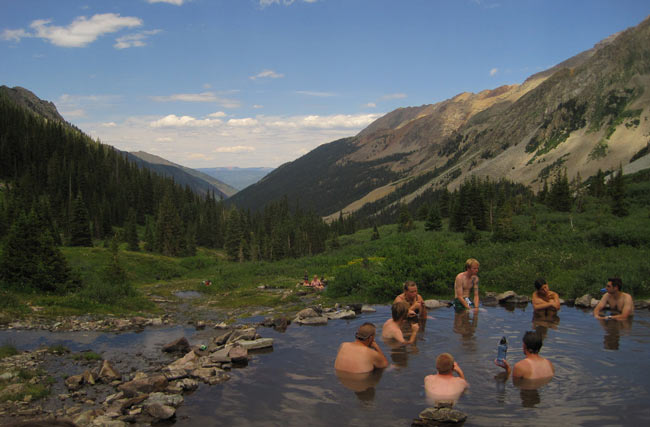 Conundrum, Elk Mountains, Colorado
Conundrum Hot Springs must be earned – a 19-mile roundtrip hike with a 2,500-foot elevation gain is the only means of taking a dip here. The out-and-back trail is located outside of Aspen, and cannot be accessed from other trails. This undeveloped set of mineral pools is well-known but not necessarily frequented. The picturesque views here make it a coveted bucket list achievement. The primary pool is a crudely constructed rock dam that would seat about 20, though it rarely does, and other smaller pools are available just downstream. Given that the hike includes a waterfall, this may be a no-miss destination if you have the athleticism.
Trimble Hot Springs, Durango, Colorado
Trimble is a quaint, well-conceived spring just north of Durango that is a favorite with locals, but receives surprisingly little tourist traffic from the summertime Durango attractions. Shaded grassy areas slope downward to a central hot pot and a 25-yard lap pool as well. Saunas are available with the price of admission. The trees over the primary hot pool offer nice shade and make for a relaxing afternoon.
Strawberry Park Hot Springs, Steamboat Springs, Colorado
Strawberry Park Hot Springs is nestled in the trees outside of Steamboat Springs, and offers funky cabins that allow access to the nicely developed, stone-built pools. Campsites are available in the summer for those looking to save a buck or up the ante on rustic adventure. The 104°F temperature is achieved by the mixture of the much warmer spring with surrounding mountain creeks that converge near the resort. A "clothing optional" rule applies after dark, which may up that adventure ante just a little further.
Continued on next page