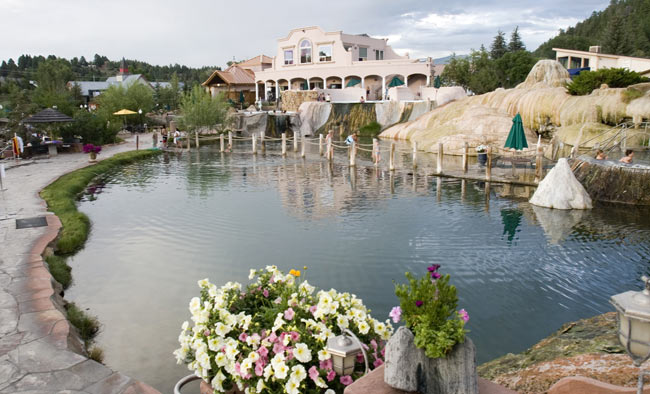 The Springs Resort and Spa, Pagosa Springs, Colorado
The Springs Resort and Spa in Pagosa Springs, Colorado is a well-known and beautifully developed facility that makes the town a draw for tourists, even though Pagosa Springs is somewhat off the beaten path. Pools cascade down from the spring to the San Juan river below, and this setup has enabled some cool waterfall features and the ability to control the water temperature of different pools. The "Lobster Pot" averages around 113°F, though most people hang out in the cooler pools. Some pools are accessed across wood plank bridges that dip just under the warm water at ankle height. Any spring in Pagosa Springs is quite sulfurous, so you can expect any silver jewelry to turn a dark, matte black if you soak long enough. Luxury lodging is available, as well as full spa services and massage.
Overlook Hot Springs, Pagosa Springs, Colorado
The Overlook Hot Springs is the little-known and less expensive Pagosa alternative that offers a soak experience contrasting the larger resort. The Overlook facility is just across the San Juan River from the larger Springs Resort and Spa listed above, and indeed overlooks the river to the other establishment. Roof top pools are great for sunbathing, but the coolest part of the Overlook Hot Springs is the lower level. A 1920's style bath replete with a chandelier has been nicely reconstructed. It's a unique experience that could take you back in time if you let your mind wander.
If You Visit Colorado
More on hot springs in Colorado
Visit Colorado
Author Bio: Jack Bohannan is a freelance writer living in Denver.