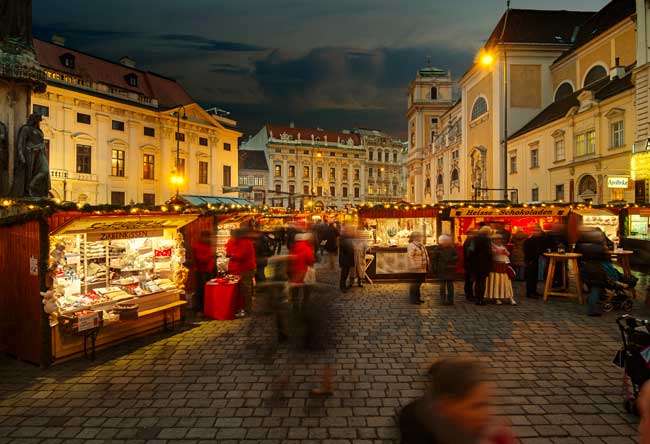 Christmas Markets
Christmas in Vienna is magical. Christmas markets spring up all over the city, their twinkling lights and cozy wooden stalls a comfort against the cold of winter. Visiting the Christkindlmarkt with friends or family are a highlight of the season. My favorite Christmas memories there include huddling together with hands warmed by glasses of hot Weihnachts Punch or Gluhwein, eating gingerbread and shopping for those perfect hand-made treasures to adorn the tree. Even now, whenever I smell cinnamon and cloves, I'm taken back to my enjoyable times at a Vienna Christmas market.
Some of my favorite markets include the Old Viennese Christmas Market on Freyung, which sells only traditional handicrafts, and the large Christkindlmarkt held on Rathausplatz, which has a very festive atmosphere.
Vienna Woods
Beautiful as Vienna is, sometimes you just want a quiet place to get away and reflect. The Vienna Woods, just at the edge of the city, were often that for me. Hiking and mountain biking trails crisscross the protected woods, which have been designated a Biosphere Reserve by UNESCO – an honor given to areas with a special cultural and natural landscape. You can reach the Vienna Woods easily by using the public transportation system.
Public Transportation
This may seem a strange thing to love about Vienna, but the city's excellent public transportation system makes visiting the Austrian capital convenient and easy. The system includes an extensive network of clean and punctual subways, trams, trains and buses. Single tickets cost just €2.30, but I recommend buying the Vienna Card if you're going to visit the city. Purchase the card in 24, 48 or 72-hour periods from the Vienna Tourism Office. It includes unlimited travel on the subways, buses and trams, and also gives more than 200 discounts to local attractions.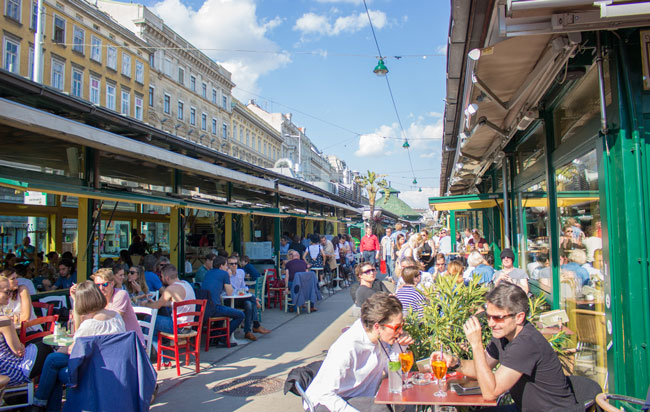 Naschmarkt
This local market has served generations of Viennese. With more than 120 stands, it's been a go-to for fresh produce and products year-round. The Saturday flea markets are a cult event, where you can find everything from historic clocks to modern art. I still have a treasured tea pot that I bought there many years ago.
On a recent visit though, I realized how much the Naschmarkt has changed. Nowadays, it's also home to an exciting assortment of restaurants, from Indian to Italian and Vietnamese. Most offer patio dining with modern flair. It's a young, international crowd, and a great place for people-watching, not to mention good food.
Bonus: Riesenrod at Prater
Yes, it's touristy. Yes, you'll have to stand in line to get onboard. But the Riesenrad – the Giant Ferris Wheel at Prater Park — is still worth the visit. Instead of riding in chairs, guests step into large cable chairs that slowly move around the giant wheel. The view of Vienna from the top is incredible, and it's a good way to get your orientation of the city.
If You Go to Vienna

Information on Vienna
Vienna Tourism Office
https://www.wien.info/en
Information on Austria
Austrian Tourism Office
http://www.austria.info/uk
Author Bio: Janna Graber has covered travel in more than 40 countries. She is the editor of three travel anthologies, including A Pink Suitcase: 22 Tales of Women's Travel, and is the managing editor of Go World Travel Magazine.