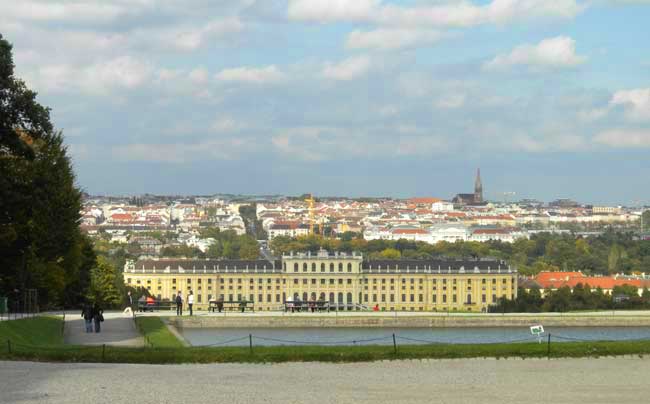 Royal Past
Speaking of palaces, Vienna has many to choose from. It was once home to the mighty Habsburg family, one of the most influential royal houses in Europe. Schönbrunn Palace was their summer residence. Today you can visit the huge complex with its famous yellow palace, perfectly manicured gardens, and Gloriette overlooking the city. If you have kids, visit the Schönbrunn Zoo, which Empress Sisi created for her many children.
Ongoing exhibits at Schönbrunn Palace detail the family's rich history, or you can simply enjoy the gardens, which are one of my favorite places to walk. Belvedere Palace also has beautiful gardens, and the famous Hofburg – the Imperial Palace – is one of the city's top attractions. It is still the official seat of the Austrian President. The Hofburg has a robust offering of top art and history exhibits of international standing.
Wine Taverns
The Viennese love their wine taverns and wine gardens, and they're an integral part of life here. Vienna has vineyards within the city limits, and the wines served are often from the wine tavern's own vineyard.
You'll find most of the wine taverns – or Heurige as they're called in German – tucked away in the wine-growing regions on the edge of the city. Locales like Heiligenstadt, Neustift or Grinzing have many.
Viennese wine gardens are family-friendly, low-key eateries. Select and pay for your food from the counter, and then your waitress will take your drink order at your table. The food available is often homemade local fare.
One of my favorite Vienna pastimes is gathering with friends at a wine garden, usually lingering for hours over good food, drink and conversation. Two of my favorite wine gardens are Mayer am Pfarrplatz and Heuriger Schübel-Auer.
True Viennese wine taverns only serve Viennese wines. These wine taverns are marked with a bunch of pine branches above their doorways, and the word "Ausg'steckt" written on a board. The word refers to the period of time when the winemaker has local wine available.
St. Stephen's Cathedral
Whenever I've been away from Vienna for a while, the first thing I want to see when I return is St. Stephens Cathedral. For me, the grand cathedral feels like the very beating heart of Vienna. Constructed in the 12th century, its Gothic steeples seem to reach for the sky. You can visit the interior of the church or pay to tour the underground catacombs. Located in the heart of the First District, the cathedral has suffered through wars and empires, but still stands tall at the center of the city.
Continued on next page